Call Center Company
Call Center Solutions
Call Center Monitoring System
Call Center Simulator
IVR / ACD Simulation
Predictive Dialer Simulator
Voice Broadcast Simulator

Information
Call Center Integration
Call Centers Outsourcing
Call Center Help Services
Call Center Productivity
Call Center Technology
Telemarketing CRM
Call Center Autodialer
Call Center CTI
Inbound Call Center
Call Center Simulation
Call Center Modeling
Call Center Monitoring
Contact Center Software
Call Center Software
Customer Contact Center Technology
Call Center Solutions
Telemarketing Software
Linux Call Center
Outbound Call Center
Call Center Outsourcing
Call Center Services
Call Center Development
Contact Center
Contact Management Center
Call Center CRM

DSC Tech Library
Customer Call Centers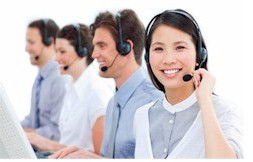 This section of our technical library presents information and documentation relating to Call Center technology and Best Practices plus software and products. Since the Company's inception in 1978, DSC has specialized in the development of communications software and systems. Beginning with our CRM and call center applications, DSC has developed computer telephony integration software and PC based phone systems. These products have been developed to run on a wide variety of telecom computer systems and environments.

The following article presents product or service information relating to call centers and customer service help desks.




---
<! ************** Beginning Of Main ************************>
Integration Relieves Call Center Hang-Ups

Integrating customer service components turns call centers into contact centers, improving customer service along multiple channels while cutting costs and possibly increasing profits.

Written by Jackie Mauriello
www.integratedsolutionsmag.com
---


An uncertain economy has companies looking at how they can continue to increase efficiency while decreasing costs. Call centers are no exception. Still, it's important for call centers to maintain the highest quality since it is less expensive to maintain an existing customer than it is to win over a new one. As a result, companies are shifting to alternative solutions such as Web self-service or decentralizing the workforce to reduce costs, but those solutions may pose their own integration challenges.

"There has been an increased focus on decentralizing the call center workforce," says Scott Shute, CEO of e-Talk (Irving, TX). "New technologies like enterprise switches that can push calls to a home agent or secondary location are making it possible for companies to leverage talent no matter where it is." Sometimes a company exhausts the local workforce or wants to take advantage of lower labor costs, Shute points out.

Ironically, the best way to administer a system like this is to aggregate the technology in a central location and provide access via a browser. This approach adds another layer of efficiency and cost savings. When an application is upgraded on the server, employees get the advantages immediately without waiting for IT to do an installation.
Take Advantage Of Users' Preference For The Internet
The financial benefits of off-loading call center activity to Web self-service have been widely documented. In the past, the focus has been on savings, but it may also be about providing the kind of service that customers actually want. As customers become more comfortable with the Internet, the desire to speak to a human may be less common. "People on the Internet prefer to get their answers over the Internet," says Greg Gianforte, CEO of RightNow Technologies (Bozeman, MT). "One of our customers thought it was giving outstanding service by calling people who made inquiries. Those people didn't expect the phone to ring and were not happy about it."

"Web self-service solutions are the core to the mission of a call center as giving service by phone becomes a dinosaur," says Gianforte. "That means enterprises have to have a broader strategy that also includes e-mail and Web collaboration." Using technologies such as Web collaboration ensures that the shift to the Internet isn't made at the expense of customer service. For example, businesses that provide real-time customer assistance via instant messages can help customers by providing more specific product descriptions or by answering questions about similar products. Just as a customer can go up to a clerk in a retail store and ask if a sweater comes in a different color, many Web sites are allowing customers to "ping" a CSR (customer service representative) to ask for more information.
Integration Provides Consistent Customer Experience
Have you ever called a credit card company and been asked to enter your number, only to have an operator come on and ask for the number again? According to Dennis Davidson, general manager of Texas Digital Systems, Inc. (College Station, TX), customers are increasingly negative about these barriers to obtaining customer service. "If you're a customer, everything should follow you from one agent to another and across dealings with a company," contends Davidson. "If a situation is escalated, a CSR should have that information at their fingertips. Providing that requires an integrated call center solution."

Davidson says that integrating various applications and data sources, such as customer data from the Web site, is a growing trend. "All the vendors in this space have been putting more of their resources into pursuing integration partnerships," says Davidson. "Enterprises should be able to find a vendor that has completed a given integration in the past and offers a certification document from the partnering vendor." Proven compatibility removes much of the risk for the customer and reduces implementation time.

As a result of these integration partnerships, many call center software applications now support more out-of-the-box integration. Davidson says customers may be surprised by the number of applications that can be integrated into a total solution, but he warns that products offering such ease of use may be more expensive - initially. "A lot of vendors have to pass off the costs to the customer," comments Davidson. "A product with out-of-the-box integration capability may seem more expensive at first, but in the long run, it will actually cost less." By reducing implementation time and complexity, these products may eliminate the need to purchase additional professional services or hire a systems integrator.

"Contact centers need to develop a knowledge management strategy to stay accurate and consistent," says Gianforte. "The knowledge base has to stay the same across all channels." Integrating customer databases is essential to providing the same level of service in all channels as well as meeting the needs of customers who may e-mail today and call next week. Historically, only a CSR may have had access to customer records, but the Web may make it necessary for customers to monitor their own accounts through secure access.
Don't Let Integration Costs Cut Into Your ROI
"There are some great CRM [customer relationship management] apps," admits Shute. "But the cost of integrating crucial legacy data can sometimes be three to five times the cost of the software. A thin client such as Citrix seems like a good solution on a small scale, but a server farm is well beyond the capabilities of many IT staffs. If you have to go to a systems integrator, costs of implementation could outstrip your resources."

Shute says that companies should make vendors responsible for providing effective integration on time and on budget. He suggests that, in addition to choosing a software company that offers good APIs (application programming interfaces) and references, organizations should ask for a pilot. "Proof of concept can show me that it works on a desktop or in a lab," says Shute. "A vendor needs to prove that the solution will work in a specific environment." After that, Shute advises that customers demand a timeline, a statement of work, and detailed accountability on both sides.

Another option is to outsource the project to the vendor entirely, advises Gianforte. "Because of the economies of scale, a vendor can offer a hosted solution to supplement call center operations with integrated Web self-service. RightNow charges the same price whether we host it or the customer does," says Gianforte. This strategy is suited for companies which don't have the in-house IT resources to manage the application. It is often faster to implement while requiring little or no up-front investment. Gianforte points out that an in-house application requires servers, Internet bandwidth, communications equipment, and an administrator, even before the solution is up and running.

Davidson points out that these issues don't just affect large corporations. "A lot of solutions are geared toward smaller organizations and can offer them the same benefits larger companies enjoy," he says. By creating an integrated contact center as opposed to a stand-alone call center, companies can communicate with customers more effectively and in the manner each customer prefers.

<! *************** END OF MAIN *******************************************>