Call Center Company
Call Center Solutions
Call Center Monitoring System
Call Center Simulator
IVR / ACD Simulation
Predictive Dialer Simulator
Voice Broadcast Simulator

Information
Call Center Monitoring
Call Centers Outsourcing
Call Center Help Services
Call Center Productivity
Call Center Technology
Telemarketing CRM
Call Center Autodialer
Call Center CTI
Inbound Call Center
Call Center Simulation
Call Center Modeling
Call Center Monitoring
Contact Center Software
Call Center Software
Customer Contact Center Technology
Call Center Solutions
Telemarketing Software
Linux Call Center
Outbound Call Center
Call Center Outsourcing
Call Center Services
Call Center Development
Contact Center
Contact Management Center
Call Center CRM

DSC Tech Library
Customer Call Centers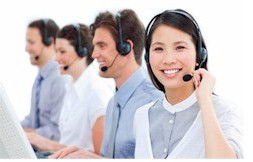 This section of our technical library presents information and documentation relating to Call Center technology and Best Practices plus software and products. Since the Company's inception in 1978, DSC has specialized in the development of communications software and systems. Beginning with our CRM and call center applications, DSC has developed computer telephony integration software and PC based phone systems. These products have been developed to run on a wide variety of telecom computer systems and environments.

The following article presents product or service information relating to call centers and customer service help desks.




---
<! ************** Beginning Of Main ************************>
Call Centers Focus On Quality
---


The following is an extract from the article "A Sharper Focus On Quality" by Joe Fleischer of callcentermagazine.com.

"Quality assurance involves much more than recording a few calls, playing these calls back and assigning them scores. Quality assurance is a practice in itself that has an impact on how a center trains agents and satisfies customers.

If performance were simply a matter of measuring the average length of a call, quality assurance would be an easy discipline. But although an unusually long call can be an indication that an agent is struggling to answer a customer's question or resolve a problem, that does not mean that efficiency is always the same as quality.

Quality is difficult to measure and it requires many points of view. In many centers, supervisors work closely with dedicated quality assurance (QA) staff to assess agents' performance.

When you examine the content of agents' conversations with customers, you factor in much more than your conjectures about what customers need. In some companies we profile, the individuals who monitor agents also answer calls so that they know what it's like to do the work of the agents they evaluate.

Through quality assurance, you establish standards that reinforce rather than dictate how agents communicate effectively with customers. One company that exemplifies this approach is Spherion, a staffing and recruiting firm that determines the attributes of agents it seeks to hire based on the best practices of agents it currently employs.

Ultimately, agents are the people who enable call centers to define what quality is. When you set clear expectations for agents and make it a priority to give agents regular, constructive feedback, you too can identify the traits that make agents at your center best at their work. Here's how five companies achieve this goal successfully.
Potomac Electric Power Company
Charles Dickerson had a good reason to be proud last summer, when Potomac Electric Power Company, or Pepco, earned the highest customer satisfaction scores among electric utilities in the eastern US, according to a nationwide survey by JD Power and Associates and Navigant Consulting.

Dickerson manages customer service for Pepco, which transmits and distributes electricity to several million customers in Washington, DC, and in suburban Maryland. The utility has a call center at its headquarters in downtown Washington, DC, which employs 49 full-time agents, and a center in Rockville, MD, which employs 17 full-time agents. Together, these centers receive more than 1.4 million calls per year.

Agents at the larger center assist callers who inquire about bills, ask about meter readings, inform the utility of changes to their mailing addresses, schedule visits from technicians or request that their service be turned on or off. Dickerson estimates that agents in Washington, DC, answer about 70% of the calls to the two centers.

Pepco opened the smaller center in Rockville at the end of 1999 in advance of deregulation, which allowed Maryland residents to select electricity suppliers as of July 2000 and enabled residents in the District of Columbia to choose suppliers at the start of 2001. Agents at this center primarily answer questions from customers about changes to their bills, which now break out costs to generate, transmit and distribute electricity. Agents also back up the larger center by answering the more general questions that their colleagues in Washington receive.

Evaluations of calls account for 60% of agents' monthly reviews, which, in turn, are the basis for agents' annual performance reviews. The utility also factors in the average amount of time agents devote to each call and how productively they spend their time overall.

Pepco has a team of ten individuals, or leads, who listen to recordings of calls and view screen captures during calls. Because Pepco requires that agents look up or update information about customers before the end of each call, the leads also verify that agents select the correct onscreen forms and complete them accurately at the same time they speak with customers. The utility expects leads to evaluate a monthly average of at least six calls per agent. Among the actions leads listen for are whether agents identify themselves correctly, listen to callers without interrupting and paraphrase customers' requests accurately. Leads verify that agents consult customers' records before they offer certain services, like payment plans for utility bills.

The leads use Click2Coach, a call monitoring system from Envision Telephony (Seattle, WA), to record, play back and score calls. Leads monitor a random group of calls during the day, and they occasionally schedule monitoring if supervisors plan to be away from the center on a certain day. Agents can record their own calls if, for example, they feel they have to document conversations with irate customers.

Dickerson explains that since the two call centers are union shops, agents receive evaluations from their supervisors rather than from their colleagues. The leads do not give agents monitoring scores because, within the company's hierarchy, they rank as the agents' peers. But the utility does require supervisors to provide feedback to agents within 24 hours and no later than 48 hours after the calls. Dickerson says that Pepco is easily able to schedule feedback sessions for agents because the centers receive about 80% of their calls each week on Mondays and Tuesdays.

Pepco's internal newsletter announces names of agents who earn the highest or most improved scores. Agents who receive the top five scores for a certain skill, such as solving problems or demonstrating to callers that they understand what help they need, can also receive tickets to games or concerts at the MCI Center in Washington, DC. The utility randomly selects a different skill each month.

Besides scores from supervisors, agents' evaluations incorporate feedback from customers. Dickerson says that a data entry clerk calls a random group of customers who have visited or called the utility within the past month. The clerk asks how many times customers contacted Pepco, and whether the agents communicated clearly and courteously.

"We find that monitoring directly correlates to what customers said," says Dickerson....."


---

To view the complete article, please visit www.callcentermagazine.com.


---