Call Center Company
Call Center Solutions
Call Center Monitoring System
Call Center Simulator
IVR / ACD Simulation
Predictive Dialer Simulator
Voice Broadcast Simulator

Information
Call Centers Outsourcing
Call Center Help Services
Call Center Productivity
Call Center Technology
Telemarketing CRM
Call Center Autodialer
Call Center CTI
Inbound Call Center
Call Center Simulation
Call Center Modeling
Call Center Monitoring
Contact Center Software
Call Center Software
Customer Contact Center Technology
Call Center Solutions
Telemarketing Software
Linux Call Center
Outbound Call Center
Call Center Outsourcing
Call Center Services
Call Center Development
Contact Center
Contact Management Center
Call Center CRM

DSC Tech Library
Customer Call Centers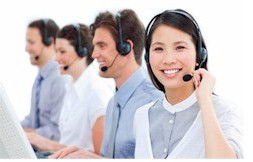 This section of our technical library presents information and documentation relating to Call Center technology and Best Practices plus software and products. Since the Company's inception in 1978, DSC has specialized in the development of communications software and systems. Beginning with our CRM and call center applications, DSC has developed computer telephony integration software and PC based phone systems. These products have been developed to run on a wide variety of telecom computer systems and environments.

The following article presents product or service information relating to call centers and customer service help desks.




---
<! ************** Beginning Of Main ************************>
Call Center Best Practice Issues
---


The following is an extract from the article "How to Overcome the Call Center Conundrum" written by David Myron of CRM Magazine:

"Each day customer service representatives at BancTec Computer and Network Services field roughly 5,000 telephone calls that average 14 minutes and may go as long as an hour--and need to. So when company executives put on the pressure to cut costs and realize efficiencies, Jackson had to be creative.

BancTec provides PC tech support for some of the largest computer manufacturers in the world. Tech support often requires a lot of hand-holding. So although cutting talk time seems like a valid solution, for BancTec it's a nearly impossible task. And moving customer support to the Web isn't an option, because of the very reason customers are calling.

Instead of reducing talk time, Jackson chose to address the most unproductive part of the call: customer wait time, or the time customers are on hold until the next agent becomes available. "It's such a mathematical game," Jackson says. "If you want your customers to wait zero time, you have to have a lot of people sitting there doing nothing. If you want employees working all the time, customers will wait a long time."

Balancing the two became overwhelming, so Jackson turned to Aspect Communications for its workforce management solution. BancTec had already been using Aspect call center solutions for 13 years. So the decision to buy Aspect's workforce analysis tools a year ago was a natural progression.

Prior to using Aspect's workforce analysis tools, Jackson estimates that only 60 percent of agents were complying with their assigned schedules. The Aspect solution helps BancTec track what percentage of the time agents actually work the schedule assigned to them. Now, even after shift changes, breaks, and lunches are factored in, compliance levels have jumped to 95 percent, Jackson says. "That's a 35 percent increase in employees doing what we pay them to do," he says.

In July 60 percent of calls were answered in 30 seconds or less. However, because of the sudden employee attrition rates in August, the average speed-to-answer climbed to roughly 130 seconds, Jackson says.

Nonetheless, when his staff is fully operational Jackson expects to see average speed-to-answer stay below 40 seconds. And as important as that metric is to both maintaining customer satisfaction and meeting corporate goals, Jackson says the biggest benefit is a soft return on investment: the sense of fairness that agents feel now that they are doing what they should be doing. (Compliance numbers are shared with the agents.) "Before," Jackson says, "people wondered, 'Hey, am I the only one taking calls while the others are goofing off?'"

Know Thy Customers (Before the Call)Beginning each call by asking for the caller's contact information can be a real time-waster. The Chamberlain Group sought to eliminate that wasted time to cut contact center costs.

The Chamberlain Group is a leading manufacturer of garage-door openers, selling under such names as Sears Craftsman, Chamberlain, and LiftMaster. Garage-door openers tend to break down after 10 years of use, says David Gillhouse, Chamberlain's vice president of IT. As a result the company is now seeing a significant lift in its replacement business. So much so that sales have increased 15 percent per year over the past three years.

The challenge has been that Chamberlain's old customers are as difficult to identify as its new ones when considering now often names, addresses, and telephone numbers change over the years. Having to question each caller was adding too much time to calls. So Gillhouse sought a solution that would help shave call duration.

That solution was a product from W3Data, a data-matching company. Chamberlain implemented W3Data's API411 solution in June. The solution shaves between 20 and 30 seconds off of customer service calls by automatically populating agent-facing applications with necessary customer information like full name, address, and phone number, as soon as the agent picks up the phone. While 10 seconds off a phone call may not seem like a lot, consider the savings when you get 1.4 million phone calls a year. "That's pretty substantial," Gillhouse says.

What makes W3Data's solution unique is that it works for new customers that have never interacted with a company. To do this, W3Data's solution uses caller identification capabilities to instantly identify a phone number. The phone number is then sent out and matched against nationwide telephone directories to determine the name and address of the caller. This reverse lookup is done within a fraction of a second. By the time the agent picks up the phone, a screen pops up on the agent's computer already populated with the customer's basic information.

The Chamberlain Group set an ROI goal of 70 percent within one year of using W3Data's API411 solution. Already, Chamberlain is looking to surpass that goal by 50 percent, Gillhouse says, to receive an ROI of roughly 120 percent within one year.
Use Web Self-Help for BASIC QUERIES
If Forrester Research's estimates are correct that a telephone support call costs on average roughly $33, imagine how much a company would save by reducing incoming service calls 14 percent in one month. That's what Greg Phillips saw after professional health publishing company Lippincott Williams & Wilkins (LWW) implemented a RightNow Web self-help solution.

Phillips, a customer service director at LWW, admits that his company's productivity was poor prior to the RightNow solution. The four LWW service reps handling email were simply not prepared for the sudden surge in emails that came as a result of LWW making its 275 medical journals available for free online. Within seven months email volume soared from 1,500 to 6,500 emails per month. The added volume translated into a significant drop in response time: LWW service reps took nine days, on average, to answer emails.

"In a traditional call center it's very hard to deal with spikes, because a finite number of agents have a finite amount of time to deal with spikes. Any time spikes exceed [maximum capabilities] you're going to deliver poor service. That's just a fact," says Greg Gianforte, CEO and founder of RightNow Technologies. "So when complemented by experts in a call center, self-service can deal with repetitive questions and knock the tops off the spikes."

When LWW launched the RightNow solution in November 2001, the results were immediate, according to Phillips. With so many of LWW's customers finding answers online, email and call volume dropped. Now, about 90 percent of email queries are answered within 24 hours, and 99 percent are answered within 48 hours.

Telephone support calls dropped from 25,000 per month to roughly 22,000 per month this past summer. "Every month in 2002 our phone volumes decreased," Phillips says. "In January 2002 our phone volumes were lower than January 2001, and that trend continues today......"


---

To review the entire article, visit www.destinationcrm.com and locate the article entitled "How to Overcome the Call Center Conundrum".

<! *************** END OF MAIN *******************************************>