Call Center Company
Call Center Monitoring System
Call Center Simulator
IVR / ACD Simulation
Predictive Dialer Simulator
Voice Broadcast Simulator

Information
Call Centers Outsourcing
Call Center Help Services
Call Center Productivity
Call Center Technology
Telemarketing CRM
Call Center Autodialer
Call Center CTI
Inbound Call Center
Call Center Simulation
Call Center Modeling
Call Center Monitoring
Contact Center Software
Call Center Software
Customer Contact Center Technology
Call Center Solutions
Telemarketing Software
Linux Call Center
Outbound Call Center
Call Center Outsourcing
Call Center Services
Call Center Development
Contact Center
Contact Management Center
Call Center CRM

DSC Tech Library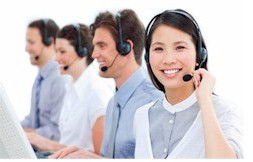 This section of our technical library presents information and documentation relating to Call Center technology and Best Practices plus software and products. Since the Company's inception in 1978, DSC has specialized in the development of communications software and systems. Beginning with our CRM and call center applications, DSC has developed computer telephony integration software and PC based phone systems. These products have been developed to run on a wide variety of telecom computer systems and environments.

The following article presents product or service information relating to call centers and customer service help desks.




---
<! ************** Beginning Of Main ************************>
The Ins and Outs of Outsourcing
BY MANOJ KUNKALIENKAR
---


You can paint it any color," Henry Ford proclaimed in 1908, as he showcased the Model T to a group of skeptical onlookers. Eventually, it became Americaís first mass produced automobile, and over the next 19 years Ford built 15 million cars with the Model T engine.

Like the automobileís early years, IT (news - alert) outsourcing has come a long way in gaining acceptance to become an extended arm for many business models. Since outsourcingís birth some 15 years ago, the technology industry has seen a wider menu of options than ever before. With onshore, offshore, nearshore, security outsourcing, and business process outsourcing, where does one begin? Is outsourcing a viable option for your business?

According to Gartner principal analyst Bruce Caldwell, savings resulting from an outsourcing deal can amount to 20 to 30 percent. Many US companies stand to benefit from the advantages, but must first obtain a solid sense of what constitutes a good outsourcing deal.

Mistakenly, outsourcing is often viewed as an alternative revenue generator. However, outsourcing should not be considered another profit center, nor should the decision to outsource be solely based on money. While cost savings are significant, dollars are only one factor in the deal, as most companies searching for an outsourcer are often looking to establish best practices or acquire special services or skills.

Companies considering outsourcing must evaluate how the choice will impact industry benchmark goals for the most current, innovative, and advanced practices. To justify outsourcing from a business perspective, it needs to improve the organizationís performance and efficiency. Identifying and achieving best practices can reduce business expenses and improve organizational efficiency while also setting the organization ahead of the curve.

Economists point out that outsourcing makes businesses more competitive, increases exports and profits and allows for more investment-worth surpluses. According to McKinsey & Company, a management consulting firm, for every dollar spent on outsourcing, the US economy receives $1.12-1.14 in return. Business and customer spending increases, as cost savings and the use of offshore resources lower inflation, increase productivity, and lower interest rates. Outsourcing boosts the US gross domestic product and helps generate US jobs, including positions in the IT sector, according to the Global Insight report. As the benefits of increased economic activity compound over time, the US economy operates more efficiently, achieves a higher level of output, creates more than twice the number of jobs than are displaced, and increases the average real wage.
Outsourcing as an option
There are a number of potential reasons for companies to outsource projects. One motive is the lack of people available to do the job in-house. When resources and the people able to complete a particular, highly technical task successfully and efficiently are not available, organizations look for outside talent to expand its skill pool.

Many small businesses look to outsourcing as they often lack an IT department and skills to effectively manage oneóbut still have the same needs as large businesses in terms of technology, human resources and customer service. Moving offshore gives smaller businesses access to the latest technology.

To survive in a competitive market, most businesses prefer to concentrate in-house skill on new initiatives that differentiate the company from its competitors. Thus, businesses often outsource routine technological tasks needing general ongoing maintenance, freeing up space, time and talent for new, innovative initiatives.

Outsourcing also eliminates geographic and time boundaries in the workday. When the US market is closed, technicians working in India, for example, can pick up where the West left off. Thus, businesses never miss a beat, allowing project development to happen faster, or call centers to constantly be online, doubling or tripling the amount of customer queries that are handled in a twenty-four hour period.
When not to outsource
Itís not wise for companies to outsource when in-house options provide more stability and profitability in the end. The trick is being able to recognize the differentiators. Critical operations that are malleable, in the development stage or warrant internal stability should stay in-house for safekeeping and close watch.

Small businesses need to weigh the factors more carefully, as cost-effective contracts are often less customizable. For some smaller companies, pooling talent internally and watching the project through early development can be a better route to take.
Vendor selection and management
Vendor selection is the core of a successful initiative. Businesses need a vendor that best fits their particular needs, which is a complicated task due to the numerous available options.

Companies should focus on the vendor, not the country it is located in, as weighing the strengths and weaknesses of a geographic environment broadens the criteria too extensively. Businesses should search for partners that can become an extension of the business, through a relationship based on effective communication.

Quality standards must also be met. The Capability Maturity Model (CMM) is designed to guarantee efficient development processes and constant improvements. Companies should verify that the vendor has attained optimal quality certification. CMM level 5 is the highest certification standard and guarantees the best level of service in software development.

Itís also crucial to grasp the technicianís education level and technology expertise in the area that the enterprise is looking for assistance. Then, assess the vendorís history of success, customer satisfaction, time to market and quality assurance. Lastly, remember to carefully screen the project management teamís success, as they will be the customerís gateway to information.

Once an organization has decided on the best outsourcing partnership for its needs, how is the vendor relationship managed? When establishing best practices, businesses need to make sure that they are creating the right contract and service level agreements that meet ROI metrics.

Success for an outsourcing initiative begins in the vendor negotiations regarding service level agreements. Below are common practices that have been implemented into successful outsourcing relationships:
1. Communication in relationships Everything in a successful relationship between people stands on the solid block of communication, and it is no different in a relationship between customer and outsourcer. A relationship that involves constant communication will prove to be a gateway for long and prosperous partnership. If members of each of the management teams have a solid understanding of the common goals from the start, the working relationship will last.


2. Training is supreme Vendors need to understand the technology they are dealing with and the intricacies of the project. Investing in solid training at the start of the contact and initiating ongoing training throughout the relationship can make a successful outsourcing initiative.


3. Benchmarking initiatives From the conception of the outsourcing project, the customer should establish objectives and ensure that the vendor clearly understands what the objectives entail. It is important that the objectives are quantifiable so the customer can measure and illustrate how the project impacts the bottom line.


4. Review mode Organizing an executive committee to oversee the vendor relationship and draw out the best strategies for a smooth and effective project scheme can help solidify success. Not only is it imperative to establish benchmarks and goals at the start of a contract, it is equally critical to revisit the goals periodically. A frequent review cycle allows additional communication and ensures best practices.


5. Eliminate cultural boundaries While cultural gaps between home base and the technicians are inevitable, recognizing the differences helps ease hindrances that could occur. Promoting education, cultural workshops for on-site and off-site teams, accent neutralization and providing information on the company are initiatives that have helped companies bridge the cultural gap with their vendors.
The growth of IT outsourcing has brought solid methodologies and tools to help meet business goals. However, these tools do not necessarily make outsourcing and vendor management easy. The business must determine its goals and map out a long-term plan. Outsourcing is a partnership where all parties must have a clear view of quantifiable goals in order to be successful.

Outsourcing is growing not just for technology and software development, but also for human resources, accounting customer service, and a wealth of other business arms. As businesses in the US see outsourcing as an opportunity to cut costs, expand goals and concentrate talent on projects that are mission critical to business, it is imperative that they do their homework by monitoring the internal business and ensure that an outsourcing relationship will best serve their end goals.

Manoj Kunkalienkar serves as executive director and president for ICICI Infotech. NJ-based ICICI Infotech brings a mix of on site, offsite, nearshore and offshore services to US customers, with a strength in financial services.

ICICI Infotech Inc. www.icici-infotech.com <! *************** END OF MAIN *******************************************>