Call Center Company
Call Center Solutions
Call Center Monitoring System
Call Center Simulator
IVR / ACD Simulation
Predictive Dialer Simulator
Voice Broadcast Simulator

Information
CRM Simulation
Call Center Simulation
Call Centers Outsourcing
Call Center Help Services
Call Center Productivity
Call Center Technology
Telemarketing CRM
Call Center Autodialer
Call Center CTI
Inbound Call Center
Call Center Simulation
Call Center Modeling
Call Center Monitoring
Contact Center Software
Call Center Software
Customer Contact Center Technology
Call Center Solutions
Telemarketing Software
Linux Call Center
Outbound Call Center
Call Center Outsourcing
Call Center Services
Call Center Development
Contact Center
Contact Management Center
Call Center CRM

DSC Tech Library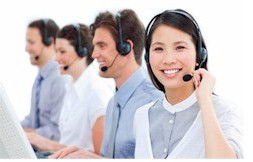 This section of our technical library presents information and documentation relating to Call Center technology and Best Practices plus software and products. Since the Company's inception in 1978, DSC has specialized in the development of communications software and systems. Beginning with our CRM and call center applications, DSC has developed computer telephony integration software and PC based phone systems. These products have been developed to run on a wide variety of telecom computer systems and environments.

The following article presents product or service information relating to call centers and customer service help desks.




---
<! ************** Beginning Of Main ************************>
Linking the Call Center to the Field Force
When developing a symbiotic relationship between the call center and the field force, remember the two Cs: customer and communication.

by Jennifer M. Sakurai
---


The dispatcher is the field worker's umbilical cord to his office and day-to-day operations. Traditionally, the dispatcher had to chase workers down and make separate calls to inquire about inventory while the worker played catch-up in his paperwork at the end of each workday or, even worse, the end of each week. How has this relationship changed in recent times, and what is the impetus behind such change?

Joe Mediate, president and CEO of iMedeon, cites the Internet as the reason wireless is moving to the forefront of the field workers' job tools. "The technology is more affordable. Now, users can buy a service instead of a product. They're paying for functionality."

Three or four years ago, only large companies could employ a consulting house and spend 18 to 24 months creating a custom-built, code-based application. But such applications were configured to initial specifications, regardless of flaws in business processes, and could not adapt to changing needs, says Mediate. Smaller companies had neither the technology nor the people to undertake such a project.

Michael Knowles, Novamed's vice president of business development, sales and marketing, adds that today's applications are much more flexible because they have an "ability to back into systems currently running; companies don't have to completely revamp their systems."

Dave Reihl is vice president of operations, field services, for Novamed, a healthcare technology provider serving hospitals with the help of iMedeon. Established in 1983, Novamed has seen growth of 40 percent a year. Its 60 to 70 field engineers cover 22 states.

"There's an impact on cash flow," Reihl explains of automating the system. Client billing has decreased from three weeks to almost real time, productivity has increased because of reduced clerical work on the part of field workers, and the dispatching process itself has improved, says Reihl.

Novamed's field engineers service high-tech, mission-critical medical equipment such as CT scanners and MRI machines. Such machines need to be operational 24/7, not 8 a.m. to 5 p.m., so it's vital that the field engineers maximize the number of hours they work on the equipment and not on follow-up administrative tasks.
Internet and Wireless: Co-stars Again
The emergence of the Internet and wireless technology is playing a key role in automating many functions between the call center and the mobile work force. Devices have gotten cheaper and smaller--PDAs, text pagers and Web-enabled phones can be thrown in a worker's purse, briefcase or knapsack.

The telephone is the old guard of communication. But as in all other aspects of business, the landline phone is now taking a backseat in many of its former roles, notes Peter Semmelhack, president and CEO of Antenna Software, one of the newest companies in the field service space.
Field Service's Emerging Role in CRM
Companies now realize that field service demands the same attention as other segments of the workplace. "We used to use the same software for field service delivery as we did for the call center," says Semmelhack, "but field service... needs specific tools to be handled properly."

While call centers may have mastered two-way consumer interaction, they're lacking in understanding and assisting their field forces, which lowers the value of the service provided to the customer. But dispatchers who need to know what's going on in the field can now use real-time schedule optimization applications, says Amit Bendov, vice president of product marketing for ClickSoftware. "Technology can provide the infrastructure to link the call center and the mobile worker."

Field force vendors have experienced problems firsthand. Semmelhack's DSL line went down, and no one appeared for four days even though the call center had said that someone would be there at 6:00 to service it. The problem, says Semmelhack, is that there is a difference between what the call center thinks is going on and what the field service rep knows.

Such lack of understanding will soon be fatal for companies. "Traditionally... once a call would get to the service side, things would fall apart," explains Kristi Urich, field service and utilities solutions manager for Intermec. "Now that service is a boardroom issue, it's a differentiation for customers.... In order to keep customers happy and buying, the atmosphere is more consultative than just break/fix, and the emphasis is on service as a cost center."
Changing Your Business Processes
Sometimes the adage "if it ain't broke, don't fix it" needs to be thrown in the garbage. While your process may not fail, you might be able to make it a lot better. Before you run around searching for an application to implement, however, do some soul searching as to exactly what your goals should be.

"We wanted to have access to real-time data to improve our retention of customers, versus just acquiring them. We can use this information to manage the escalation of a problem or retain the information for future use," says Tommy Stewart, director of sales and support for Toshiba Medical.

Toshiba had a strong sense of what it required because it constantly does customer surveys to better understand its customers' needs. Companies that conduct regularly scheduled customer satisfaction surveys--and bother to calculate results--generally have high ratings for meeting customer satisfaction. Xerox, for example, scores higher than 95 percent for meeting or exceeding expectations. Its weekly surveys can show the company when there's the slightest hint of a problem, which it can then remedy before it escalates.
Picking Your Solution
Unfortunately, the improvement process isn't necessarily easy or fast after you determine your goals. With the goal of becoming a recognized leader in customer loyalty, Toshiba Medical engaged 25 of its in-house and field workers and top vendors such as Clarify, Oracle and Siebel in a rigorous simulation of its sales processes that, during a seven-month review, resulted in the "canning" of a number of strategies and potential technologies.

A careful selection process can definitely make or break the success of your project. "I'd encourage everyone to think that the planning stage is the most critical one," says Stewart. "You need a business solution, not just a technology solution. Pick software that's flexible and an integrator who understands your business needs and who cares about more than getting your project done on time and under budget."

Toshiba Medical ultimately selected Clarify and is happy with the decision. "The success of our project was our scrutiny in picking the vendor that was right for our product," Stewart explains.

For Novamed, it took approximately three to four months from planning to implementation of iMedeon's system. iMedeon handled the training, which only had to be conducted with the field engineers as the office staff continued to work on its old system (the iMedeon product works behind the scenes). Before the process began, "iMedeon did an assessment of our current practices," Reihl says. "They asked the same questions of many people within our organization--field engineers, managers, back office." iMedeon found inefficiencies in the processes and possible areas for improvement. "All that work--approximately 2.5 weeks' worth--was done before getting a commitment from a customer, so it shows iMedeon's dedication."
Gaining Your Employees' Acceptance
You haven't hit a game-winning home run when your new system is up and running. In fact, that's part of the pregame festivities. In order to hit your homer, you have to get your people to embrace your solution.

Toshiba spent six months studying its new sales process and integrated customer database before implementing its solution, then had in-house training on both the technology and the process and the use of the help desk. "Change is always a rather different experience," says Stewart. "I'd say this system was well received once it got through the initial phase. It's always a challenge, and [Clarify's solution] certainly has more tools and reports than before. We're in a competitive environment, and the name of the game is managing information." How better to manage it when you have access to a complete history in real time?

Training is vital in helping people make the transition. But sometimes even that's not enough. Curtis Chapman, customer support IT manager for the Xerox Office Printing Business, was working on a multiyear global project with Metrix. The project started in 1995. The company was using four systems to manage its U.S. call center, and Europe was using 13 systems. Xerox had the added task of internationalizing its packages and creating many multi-language documents.

"A typical attrition rate in a call center is 25 percent a year," says Chapman. "It's hard to keep training new people, but even less-experienced people can still serve customers if they have a strong knowledge base. The goal was to have a 70 percent fix rate via phone calls, up from 50 percent. Not having to send a tech out 70 percent of the time helps flatten the workload."

Don't expect a smooth transition, says Chapman. Your numbers might very well go down before they go up. "We took a 25 percent hit in productivity for a few months. [Training is] a hard thing to do in a call center environment. Calls keep coming in, so you have to plan the workload."

Astea's Kirby says that you should think about your workforce while deciding how it will best respond to training. "There are two ways to train people," Kirby explains. "One is to do it before you get started, so that they can understand how the project will work and see an overview of the suite. They learn how the system is deployed. This process takes a couple of days to a week.

"The other way is to combine the training of our staff and their managers, whom we train first. That helps keep costs in line. The user training is a three-day process, then it's a matter of them getting used to it. A lot of training comes in the implementation phase; many companies do a pilot with a committee. After the initial training, they can call our help desk or get help from their project managers. We also offer formal training classes on a regular basis that can be used as refresher courses or for new personnel that come onboard after implementation."
Expect Potholes
Be aware that with such massive changes in technology and the standardization of processes, what should result in only good changes--easier data management and access, worldwide understanding of inventory levels and location--can lead to unexpected problems.

Are the techs selling the wrong product to the wrong people? Promising outcomes they can't deliver? It might take some work to get to the root of the problem, then more training might be required. But only an astute manager will recognize and take charge of the problem--and not blame the vendor for neglecting to calculate these potential added costs in their quoted ROI figure.
Hidden Benefits
How about something you might never think of for your field force--like getting them involved in marketing and sales? "Point-of-service is point-of-sale," says Semmelhack. "If technicians have the appropriate content in front of them, they can talk about sales opportunities."

Such discussions can include anything from reduced prices for parts replacement due to available service contracts to discounts on other products purchased at that time. If such sales pitches are agreed to, the company eliminates the possibility that the customer forgets or decides to skip the upcoming service call. The company gets income from a warranty paid for a product that might not have needed repair within the time period specified and also introduces the customer to additional offerings.

Although this trend of service tech as salesperson is still a relatively new concept, some companies--usually those with higher-end devices such as medical equipment--have already given their techs quotas on the amount of product they need to sell. Semmelhack says that workers will need to pay attention to the little details to increase their selling potential. "For example, if a [field technician] hears everyone talking about how they need new laptops, he should mention whatever laptops his company offers."

"If you can get 10 percent of the field force to [work on selling], you depend 10 percent less on what your sales force is doing," says Semmelhack. Companies may also begin to rely more on their field technicians to collect information on vendors, their environments, and their current inventories of equipment, he adds.
Where Do We Go From Here?
Although technology has gotten us this far, no one thinks that it has reached its limit, and thus is anticipating improvements in the near future. For example, Bendov tells potential customers that there are a lot of consumer-oriented devices that are beneficial, such as WAP-enabled phones, but for a field service solution, a company needs something more robust. End users should look for the following elements:
Coverage. Wireless network coverage is far from perfect. "You need an industrial-strength solution."


Low bandwidth. Browsers are generally not optimized for very slow networks.


Accessibility/integration with other functions. Eventually, most of your applications such as accounting, sales force automation, CRM applications, human resources and workforce management will be available to the mobile worker. "It's important to look for applications that follow the standards so that you don't need a new handheld every time there's a new platform. Applications should be compatible with each other."
"The next phase is to provide more e-services and self help through the Web," he says. "We're now trying to develop a program to drive more business through the Web. As people get into higher speed access... they'll be able to download video/animation, and video helps people with nontechnical repairs like paper jams. It's not just what the Web offers today but for the future."

Looks like the best is yet to come.

<! *************** END OF MAIN *******************************************>