Call Center Company
Call Center Solutions
Call Center Monitoring System
Call Center Simulator
IVR / ACD Simulation
Predictive Dialer Simulator
Voice Broadcast Simulator

Information
Call Center Simulation
Call Centers Outsourcing
Call Center Help Services
Call Center Productivity
Call Center Technology
Telemarketing CRM
Call Center Autodialer
Call Center CTI
Inbound Call Center
Call Center Simulation
Call Center Modeling
Call Center Monitoring
Contact Center Software
Call Center Software
Customer Contact Center Technology
Call Center Solutions
Telemarketing Software
Linux Call Center
Outbound Call Center
Call Center Outsourcing
Call Center Services
Call Center Development
Contact Center
Contact Management Center
Call Center CRM

DSC Tech Library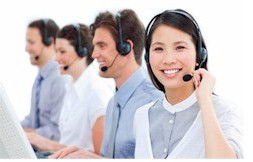 This section of our technical library presents information and documentation relating to Call Center technology and Best Practices plus software and products. Since the Company's inception in 1978, DSC has specialized in the development of communications software and systems. Beginning with our CRM and call center applications, DSC has developed computer telephony integration software and PC based phone systems. These products have been developed to run on a wide variety of telecom computer systems and environments.

The following article presents product or service information relating to call centers and customer service help desks.




---
<! ************** Beginning Of Main ************************>
Managing Call Volume
---


The following is an extract from the article "Managing Call Volume" by Daniel Costello from CRM Magazine:

"Managing fluctuating call volume is an ongoing challenge for call and contact centers. The science of figuring out just the right number and mix of agents to provide adequate service levels without incurring unnecessary personnel costs is crucial yet complicated. The factors that influence demand run the gamut from those that are predictable to those that come from far left field. It takes sophisticated forecasting tools even to begin to manage such uncertainty, but computer science and new workforce management tools are up to the challenge.

Managing call volume starts with planning. By recognizing patterns of demand, companies can create good forecasts and schedule people accordingly. Some patterns, like those that are seasonal or within a week or a day, can be recognized easily.

Though there may be some adjustments for business that is trending upward or downward, such patterns indicate just how heavy traffic might be. Even patterns that are not cyclical can aid in making scheduling decisions. Certain promotions, for example, tend to create lifts in demand that are similar to events that occurred in the past. There's almost always something planners can look back on to predict what will happen in the future.

Scheduling enough agents to handle say a hundred calls in an hour, however, is not just a matter of dividing the number of calls by the number of agents. There are events in and out of the center that are as unpredictable as human behavior.

"You have to take into account the actual performance that you would expect from the people who would be available at the time you are scheduling," notes David Koosis, vice president of strategy at ISC Consultants in New York. The company offers workforce management consulting services and software for contact centers called Irene. "If you look at a call center, they'll typically have a seniority-based bidding system so you get your most experienced people during the daytime and less experienced people with high turnover typically at night. So in fact, it takes a shorter time to handle calls in the day, and it could take a longer time to handle them at night," he says.

Such differences in proficiency are important considerations that need to be incorporated into forecasting and scheduling. With some tools, agents can be ranked according to how expeditiously they work. "We use that function mainly for new employees," says Amy Pierce, operations director for client services, Timberline Software, Beaverton, Ore. Timberline is a maker of accounting and estimating software for the construction and property management industries and since September of 1999 has been using PrimeTime Enterprise from Blue Pumpkin Software to handle the 550 to 750 support calls their staff of 85 agents handles daily. "Our average handling time is 20 minutes," says Pierce.

"If a 20 minute handle time has a rating of 1.0, new employees might get a rating of 1.5, which means that they will need 30 minutes to handle a call. We build that into the schedule to make sure that we are more accurately predicting our service levels."
Doing Those Numbers
"Both forecasting and scheduling are classic computer science problems," says Koosis. "We try to make it look really simple, but there is a lot happening underneath the sheets. It's really quite complex." That complexity is what is driving call center operators to adopt more sophisticated tools. "A lot of our customers came from using spreadsheets and thought they were doing okay with them, but typically they would get improvements, say in the number of calls handled by the same number of agents, in the 20 to 25 percent range and higher," claims Koosis.

Such success can be attributed to advances in computer sciences that have been achieved in the past couple of years and incorporated into forecasting and scheduling products. The algorithms that may have been used in the past are no longer considered ideal today. "A lot of earlier products used linear programming techniques, and linear programming techniques are just less flexible at finding possible schedules that will work. Newer products tend to use techniques such as simulated annealing," explains Koosis. Simulated annealing is a technique that allows a company to explore, given multiple requirements, a huge number of schedules to find the best possible one.

Another advance is in the ability to track performance on a more real-time basis. While some forecasts are indeed built from historical data going back months or years, for some companies, information that is closer to real time is what's necessary. Especially for dynamic centers that may be handling new products or offering new services, last year's history may not say much about what will happen next month.

"In a dynamic environment, last week is the kind of real time that they are interested in," says Koosis. "We are using things like adaptive algorithms. These are algorithms that learn based upon what's really happening in your call center. Based on data going through the system, we'll modify our own algorithms to do a smarter job of producing schedules. It's a new thing," he says.

CFW Information Services, a Waynesboro, Va., provider of directory assistance and enhanced information services is using ISC's Irene software. "We have never been in a position where we had identical traffic from year to year," says Sharon Day, director of Virginia operations. As an outsourcer of directory assistance for large phone companies, the regulatory guidelines that CFW must adhere to are among the most strict and complex in the call center industry.

On a normal day, forecast accuracy must be and is quite high, yet due to expanding services, they are challenged to make use of historical data. "The data we have from last year, as far as actual volume and support time goes, is no longer valid," says Day, "but what we can see from that is what the major call patterns are." For example, they have a good idea of how volume can change around major holidays.

Beyond those macro trends, more important is being able to monitor traffic so that, week to week, scheduling can keep up with demand. "You can see live numbers every 15 minutes as it's available from our Online Analytical Processor. We can get the data as it's available out of the switches: Here was your initial forecast; here is your actual volume and the percentage of difference, plus or minus, as well as work time," explains Day.

Such tracking allows call center operators to react to changes and schedule accordingly. "We actually collect statistics throughout the day, including call volume, handling time, service levels, agents, staffing and also the agent's events to know if people are actually doing the work that their original plan says they are to be doing. Are they logged in or are they not?" says Ofer Matin, chief technical officer, Blue Pumpkin Software, Sunnyvale, Calif.

Insufficient service levels could be the result of a number of causes: Call volume may have indeed risen beyond expectation, call handling times may have grown unusually long, or it could be that agents are not adhering to their work plan. Knowing which problem has caused the change in volume is important for planning future schedules. "We have a component in both products that's called PrimeTime Pulse, which gives something like a cardiogram of the call center. Ideally, you would see everything at zero--it's exactly as predicted, but you will see deviations going up or going down, and you can actually see different statistics and try to find the root causes of a problem," says Matin....."


---

To view the entire article, please visit www.destinationcrm.com.


---
<! *************** END OF MAIN *******************************************>