Call Center Company
Call Center Solutions
Call Center Monitoring System
Call Center Simulator
IVR / ACD Simulation
Predictive Dialer Simulator
Voice Broadcast Simulator

Information
Call Center Simulation
Call Centers Outsourcing
Call Center Help Services
Call Center Productivity
Call Center Technology
Telemarketing CRM
Call Center Autodialer
Call Center CTI
Inbound Call Center
Call Center Simulation
Call Center Modeling
Call Center Monitoring
Contact Center Software
Call Center Software
Customer Contact Center Technology
Call Center Solutions
Telemarketing Software
Linux Call Center
Outbound Call Center
Call Center Outsourcing
Call Center Services
Call Center Development
Contact Center
Contact Management Center
Call Center CRM

DSC Tech Library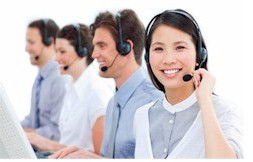 This section of our technical library presents information and documentation relating to Call Center technology and Best Practices plus software and products. Since the Company's inception in 1978, DSC has specialized in the development of communications software and systems. Beginning with our CRM and call center applications, DSC has developed computer telephony integration software and PC based phone systems. These products have been developed to run on a wide variety of telecom computer systems and environments.

The following article presents product or service information relating to call centers and customer service help desks.




---
<! ************** Beginning Of Main ************************>
Graduating With Honor
---


The following is an extract from the article "Graduating With Honor" by Jack Fields from CRM Magazine:

"E-learning provides the users of your expensive new CRM tools the training they need to succeed.

CRM veterans have learned the hard way that employee buy-in is a make-or-break issue when a new technology system goes online.

Research supports user experience. For instance, a 1999 benchmarking study by the American Society for Training and Development (AstD) shows a direct relationship between company performance and the amount of money spent on training employees. Companies that reported improvements in business performance also reported a higher level of spending on training measured as a percentage of payroll, and provided training to a greater percentage of their employees.

But employee training is notoriously time-consuming and expensive--especially when it involves pulling front-line employees away from their jobs.

Fortunately, technology offers alternatives. By delivering highly specific, interactive simulations of CRM software functionality directly to employee desktops and on a flexible schedule, e-learning solutions are helping CRM users achieve faster, more cost-efficient implementations--particularly for sales and contact center solutions.

"For sales training, e-learning is a given," says Brandon Hall who has a doctorate in educational psycology, and is a leading independent researcher in the field of online learning. "Salespeople hate to be off the road and out of the field. Their schedules are more flexible, so the 'anytime, anywhere, just enough' convenience of e-learning makes great sense."

Though e-learning software accounts for only about 12 percent of the $96 billion workplace learning market, AstD sees it as the fastest-growing, most promising market in all the massive education industry and is projected to double this year and next.

According to Jay Waldron, CEO of e-learning applications vendor Knowledge Impact of Wayland, Mass., his industry finds its success in CRM failure. "Users don't understand or accept [CRM systems], and find ways around them...When you make an investment in teaching the users not just the software but also the business process, you almost can't fail because you are really teaching them how to be effective at their jobs and putting it in language that's important to them. Training also shows employees that the company is serious. When you make a concerted effort to show them how to use the system, they immediately buy into it."
First Things First
According to AstD, more than 40 percent of the American work force performs at the low end of government literacy measurements and cannot keep up with technological advances and skills required in the workplace. To address this, more and more companies are integrating e-learning into training programs and finding new ways to reach out to their global workforce.

Tech Resource Group (TRG) in Raleigh, N.C., has been providing comprehensive learning solutions since 1993. These learning solutions are designed to help businesses deploy knowledge across the extended enterprise of employees, customers, distributors and other business partners. TRG clients include Microsoft, GlaxoSmithKline, Nortel and Palm.

In 1998 Microsoft implemented a customized version of Siebel Systems software designed to integrate sales, marketing and support. After initial training for 15,000 sales representatives in 65 countries, Microsoft was not satisfied with the utilization rate and decided to revamp its Web-based training. Microsoft chose TRG to assess the current program, review the needs of the field and modify where necessary. TRG developed Web-based training appropriate for use worldwide, which concluded with a test. If the sales representative passed, he or she would be automatically linked to a site to download the Siebel program. If not, then it's back to class. According to TRG, utilization rates of the Siebel tools have increased significantly and TRG's role at Microsoft is expanding.

Tommy Re, TRG's chief sales officer says, "e-learning is becoming much more accepted for a lot of reasons. We've heard things like 'I just can't afford to bring my salespeople together for three more days of CRM training.' We also see speed-to-market issues that tend to be more related to product knowledge and we've been doing more and more training and e-learning there.

"People wait too long to decide training strategy," Re adds. "We recommend that people think about training in advance or while they're considering what application they'll use so that we can be involved in the process. We've been much more successful with our clients when we've been involved from an earlier stage," he says. "We have suggested to clients that they push the rollout when there's not enough time for training because sometimes folks think that training's magic, but there's a lot of work that goes into it, a lot of discovery, and a lot of collaboration with the client to make sure everything comes off perfectly. End user adoption is often the deciding factor in the real, true value of this tool to the organization."

Hall echoes this when asked to identify the biggest mistake people make in e-learning: "Jumping in too fast without building a strategy and gaining support of all stakeholders. If the people you build it for aren't going to use it, what's the use?"

"You have to have the house in order," Re says. "Very often folks think they are ready to go and then all of the sudden we've got changes in the interface, some process changes, for example. The credibility factor is so important. For an instructor-led or Web-based training event, credibility is the most important thing. If our instructors do not have exactly what the end user is seeing, then that affects the credibility and that's something we try to avoid at all costs...."


---

To view the entire article, please visit www.destinationcrm.com.


---
<! *************** END OF MAIN *******************************************>