Call Center Company
Call Center Monitoring System
Call Center Simulator
IVR / ACD Simulation
Predictive Dialer Simulator
Voice Broadcast Simulator

Information
Call Centers Outsourcing
Call Center Help Services
Call Center Productivity
Call Center Technology
Telemarketing CRM
Call Center Autodialer
Call Center CTI
Inbound Call Center
Call Center Simulation
Call Center Modeling
Call Center Monitoring
Contact Center Software
Call Center Software
Customer Contact Center Technology
Call Center Solutions
Telemarketing Software
Linux Call Center
Outbound Call Center
Call Center Outsourcing
Call Center Services
Call Center Development
Contact Center
Contact Management Center
Call Center CRM

DSC Tech Library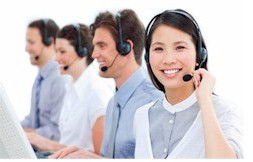 This section of our technical library presents information and documentation relating to Call Center technology and Best Practices plus software and products. Since the Company's inception in 1978, DSC has specialized in the development of communications software and systems. Beginning with our CRM and call center applications, DSC has developed computer telephony integration software and PC based phone systems. These products have been developed to run on a wide variety of telecom computer systems and environments.

The following article presents product or service information relating to call centers and customer service help desks.




---
<! ************** Beginning Of Main ************************>
Offshoring Math 101
---


The following is an extract from the article "Offshoring Math 101" by Barney Beal, www.searchCRM.com:

"Which outsourcing direction to turn? A call center agent making $15 an hour in the United States versus one making $4 an hour in India -- the math doesn't seem to make the answer that difficult.

And it isn't.

Firms considering offshoring their call center just need to make sure they take into account all the costs.

In fact, cost saving is only one reason for offshoring a call center, said Bill Price, president and CEO of Driva Solutions, a Bellevue, Wash.-based outsourcing consultant and application provider. Cost is generally the biggest driver of call center outsourcing. Companies have squeezed as much efficiency and cost savings as they can out of onshore or near-shore centers, and have to look elsewhere, Price said.

A second consideration is the people who are calling in to your call center. If customers are of low or medium value to your company, it might be well worth outsourcing those contacts. High value contacts might make sense to outsource as well, but firms should be more careful, Price warns. In that case a company might consider setting up its own call center offshore where it still has a greater degree of control over its agents but can reap the rewards of the lower labor costs.

"All contacts and all customers aren't created equal," Price said.

For example, calls to directory assistance may be highly valuable to the customer seeking the information, but of little value to the telco. That type of work is going offshore, but the high value calls are headed abroad as well.

"We're seeing the whole range going offshore, but now there's greater discrimination going on," Price said.

The third consideration is one of focus. Are you good at providing support? In a lot of cases the answer is no, and it is better to leave the support work to someone experienced with it, allowing a company to focus on what it does best, Price said.

A firm running three of its own call centers in the U.S. and outsourcing one call center within the country is spending roughly $40 million a year in operating expenses, with $15 million sunk into capital expenses like facilities, systems and real estate build-outs. If that company switches to an offshore outsourcer, it will start paying the outsourcer's capital expenses in operating costs, but the operating costs should be so much lower from Day 1 that it should be well worth it. There are some additional costs that need to be factored in, such as travel to the location and data security, but those should still be offset.

"If you don't start with the savings, you're not going to gain it over time," Price said. "Eventually, offshorers will have to pay more in labor and expenses. The margin will decrease unless you have more volume."

Finally, there are practical considerations like hours of operation. Price helped to take some of Amazon.com's call center activities to India. With the Indian location 12-and-a-half hours away from the West Coast, directing late-night calls there made perfect sense.
The math
Firms really need to look closely at all their costs before moving offshore, Price warns. That means looking at four different areas -- labor, real estate, systems like the Automated Call Distribution, CRM and quality monitoring, and telecommunications costs. All those need to be measured against offshoring.

"It all has to be modeled out pretty carefully," Price said. "A very key thing in this figure is what your annual attrition is, because you have to replace them with agents who are as expensive, if not more."
What you should ask a potential call center outsourcer:
Have you done this before and with what company?


Where do hire your employees from?


How do you train them?


How do you do a quality assessment?


How have you worked intimately with clients before?


And just as important try and find some clients that are not reference customers.
An experienced agent who can handle 12 contacts in an hour and does it well, is generally not going to be replaced by one with the same capabilities, and if they are, they are going to require more in salary. Call center agent attrition in the United States is typically very tough with rates ranging from 40% to 100%, depending on the industry, Price warns. However, with the number of call centers and agents moving to places like Bangalore, that problem is beginning to spread....."


---

To view the entire article, visit www.searchCRM.com. <! *************** END OF MAIN *******************************************>