Call Center Company
Call Center Solutions
Call Center Monitoring System
Call Center Simulator
IVR / ACD Simulation
Predictive Dialer Simulator
Voice Broadcast Simulator

Information
Call Center VOIP
Call Centers Outsourcing
Call Center Help Services
Call Center Productivity
Call Center Technology
Telemarketing CRM
Call Center Autodialer
Call Center CTI
Inbound Call Center
Call Center Simulation
Call Center Modeling
Call Center Monitoring
Contact Center Software
Call Center Software
Customer Contact Center Technology
Call Center Solutions
Telemarketing Software
Linux Call Center
Outbound Call Center
Call Center Outsourcing
Call Center Services
Call Center Development
Contact Center
Contact Management Center
Call Center CRM

DSC Tech Library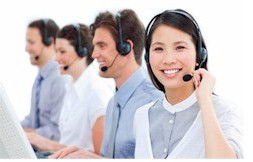 This section of our technical library presents information and documentation relating to Call Center technology and Best Practices plus software and products. Since the Company's inception in 1978, DSC has specialized in the development of communications software and systems. Beginning with our CRM and call center applications, DSC has developed computer telephony integration software and PC based phone systems. These products have been developed to run on a wide variety of telecom computer systems and environments.

The following article presents product or service information relating to call centers and customer service help desks.




---
<! ************** Beginning Of Main ************************>
Three Ways to Prepare the Call Center for VoIP

As Voice over IP gains traction organizations can prepare themselves to reap the rewards it promises.

by Dwayne Ruffin
---


When any new telecommunications service is launched, often the hardest hit area of a telecommunications service provider's business is the call center. Call center operators are on the front lines, answering everything from billing inquiries to technical problem questions, just minutes after a new service is launched.

Industry analysts predict that 2005 will be the year that Voice over IP services start to gain significant traction among customers of broadband and digital broadcast satellite (DBS) providers.

New voice services will cause call centers to evolve once again to support a new line of business, while ensuring that it doesn't become a place where profits go to die. Those operators that can evolve the call center the fastest have the best opportunity to adapt to the changing environment and reap the greatest rewards.

This impending arrival of VoIP, while a boon for business and consumer users, has put enormous pressure on operators and their customer service centers. As with any new service, operators are anticipating a steady wave of service-related calls into their contact centers, and they need to take preemptive steps to free their CSRs to accept the additional traffic. Specifically, there are three main preemptive measures every call center can integrate in preparation for VoIP rollouts:
1. Reduce call handling times
Reducing call handling times has been a significant initiative for most operators for quite some time. However, this will become even more important when preparing the call center to handle VoIP calls. To make room for calls on new services, ensure that the basics are covered:

Accurate customer information: CSRs need accurate and detailed customer information at their fingertips. Without it, call times increase, as do customer and CSR frustration levels. To get to the next level beyond basic customer information, ensure that the product catalog and campaign information is linked with order entry and billing. Then for example, if a customer doesn't elect a campaign but wants to check a la carte pricing, the information is available and can be captured for the next interaction if the customer elects not to buy anything at that time.

Customer interaction tracking: Provide immediate, detailed customer information and history on one screen. To accomplish this, make sure that internal systems can track how the customer has communicated with the company in the past (through the Internet, set-top box, call center, etc.) and what information was exchanged during the last interaction. This allows the CSRs to understand the customer's needs and meet them, faster.

"Real" statement viewing: CSRs need the ability to view the statement as the customer sees it, enabling them to solve problems faster and improve the customer's experience.
2. Move customers away from the call center and toward self-help options
EBPP and self-help applications have their own education curve; however, these tools will be essential when preparing for VoIP. Make sure your call center has these tools readily available and the education process for customers is well under way.

Customer self-care has taken on a much broader meaning than just having customers change addresses and pay bills. Well-rounded applications can give customers the power to upgrade services, choose new service packages, and handle basic account maintenance tasks.

Consider additional ways to offer EBPP and self-care applications. Most consumers are accessing these services via email or the Internet. The digital set-top box is another vehicle that enables consumers to interact with their service provider on their terms. The set-top box also offers another vehicle in addition to the call center operator to offer new promotions, discounts, or service upgrades.
3. Simplify the process that call center operators use behind the scenes
While broadband and DBS operators may be offering advanced services over advanced networks, often the call center is using manual or outdated processes to serve the customer. When call center operators don't have to worry so much about the process behind an upgrade to new services, they are better able to focus on delivering the customer care that they are paid to deliver.

Offer a combined view of all lines of business whenever possible. When CSRs can pull up a customer account that includes all lines of business, order activation, and provisioning information down to basic details like delinquency status, they can focus on providing service, not process. Some steps to accomplish this are:
- If telephony, video and data services are managed across multiple applications, add a unified graphical user interface (GUI) across applications so that every service screen has the same look and feel.

- Make it possible for CSRs to offer bundles, a la carte service pricing, and discounts across all lines of--business in easy-to understand standard packages. Tailor this information to the individual customer--know what they already have to make sure a new offer is appropriate.

- Add the details. Make call detail records (CDRs) available in real time within the customer record screens; enable options such as choosing how many outlets a customer will need. Condense telephony services and features to as few screens as possible.
Before broadband and DBS providers attempt to grow revenues from voice services, the call center must be prepared for the challenge. By treating the call center as the first customer of VoIP service, providers will gain an edge over the competition and earn a more loyal and satisfied customer base in the process.
About the Author
Dwayne Ruffin is vice president of broadband services for CSG Systems.

<! *************** END OF MAIN *******************************************>