Call Center Company
Call Center Solutions
Call Center Monitoring System
Call Center Simulator
IVR / ACD Simulation
Predictive Dialer Simulator
Voice Broadcast Simulator

Information
Call Center Employment Testing
Call Center Human Resources
Call Centers Outsourcing
Call Center Help Services
Call Center Productivity
Call Center Technology
Telemarketing CRM
Call Center Autodialer
Call Center CTI
Inbound Call Center
Call Center Simulation
Call Center Modeling
Call Center Monitoring
Contact Center Software
Call Center Software
Customer Contact Center Technology
Call Center Solutions
Telemarketing Software
Linux Call Center
Outbound Call Center
Call Center Outsourcing
Call Center Services
Call Center Development
Contact Center
Contact Management Center
Call Center CRM

DSC Tech Library
Call Centers and Technology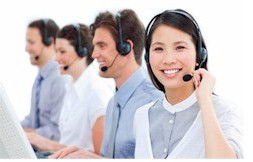 This section of our technical library presents information and documentation relating to Call Center technology and Best Practices plus software and products. Since the Company's inception in 1978, DSC has specialized in the development of communications software and systems. Beginning with our CRM and call center applications, DSC has developed computer telephony integration software and PC based phone systems. These products have been developed to run on a wide variety of telecom computer systems and environments.

The following article presents product or service information relating to call centers and customer service help desks.




---
<! ************** Beginning Of Main ************************>
What You Don't Know About Your Applicants Can Really Hurt You!
by ALLISON GROSS
Vice President, Comforce Corporation
---


Remember "Brave New World"? Chances are you had to read it back in high school.

Well, since September 11, 2001, those of us in the call center business face a brave new world.

Nothing – certainly nothing pertaining to security – will ever be the same. And it's about time. As an industry – let's be honest – we haven't always been in the vanguard of new thinking. But, as America's sense of perpetual security has been shattered, it's now time to rethink the importance of background checks for call center applicants.

Most employees are productive people who contribute to a company's success. But a few – as in any business – are not. Background investigations can keep out the occasional problem worker who may have negative incidents in his or her past history (and who can negatively affect your business). As some call centers have found out – too late – it's much less expensive to do a background check than to deal with the disruptions, liability issues, and the financial impact that may result from hiring the wrong person.

These days, we're, in this business, frantic. Many of us seem to rush through the hiring process - let's face it, we do need bodies in those seats. But hiring without the proper pre-employment screening could result in serious problems that can end up costing more time, trouble and money than leaving the seat open a little longer. Not to mention, of course, liability issues such as violence or criminal activities.

At a recent industry meeting, one call center manager said he had become fed up with having to cancel job offers to applicants he liked in interviews, just because they scored poorly on background checks. So he quit checking. And the horror story that followed clearly illustrates the folly of that practice.

The manager asked if I had read the newspaper a few weeks prior, about the guy who kidnapped his ex-wife and locked her in the trunk of her car. That man, he said, was the last guy he hired! The moral: A background check costs less than $25. But it can sometimes save a company the thousands it costs to replace a bad match, or the legal fees to defend against liability lawsuits for negligence in hiring a troubled or troublesome employee.

There's no ambiguity involved here - background test results are black-and-white. Security experts will tell you that the past is a very strong indicator of the future. How people handle their lives in the areas of education, obeying the law, driving, credit, and employment history is how they will most likely handle the future.

And there's an extra bonus for employers - there's little liability when they check potential employees. One reason is that background checks are considered consumer reports, which fall under the Fair Credit Reporting Act. Applicants sign a release approving the background check, and the employer agrees to abide by terms of the act. IT doesn't even matter if the information is wrong. As long as it's not used to unfairly deny an applicant a job, the employer cannot be held responsible, as long as human error was to blame and action was taken to correct the misinformation.

The most common problem uncovered in background checks, as you might imagine, is lying about education or job history on the resume or application. But the call center industry, of course, hardly has a monopoly on this practice. In fact, we're keeping company with some noted truth-benders…
Notre Dame football coach George O'Leary resigned after it was revealed that he falsified information about his education and playing career.
Janet Cooke, from The Washington Post, used fake educational credentials to get hired. She won a Pulitzer Prize in 1981 for a story that she simply made up. She resigned, and The Post returned the prize.
Kenneth Lonchar, CFO of Veritas Software Corporation, was fired for stating on his resume that he had a Master's Degree from Stanford University, when, in reality, he didn't have an MBA from anywhere.
Simple background investigations would have found these lies. The prevailing opinion is that perhaps 30% to 40% of all job applications and resumes include some false or inflated facts. And such figures should certainly make us a bit wary. These days, you just cannot afford to take anything for granted; a nice face and a seemingly-good attitude can sometimes hide an unpleasant truth.

The criminal background standard assessment should be in place in any progressive company in our industry. But, unfortunately, that doesn't mean the system is flawless. You just can't drop a system in place and then walk away. You need to take the time to make sure it works!

Two common mistakes? Number One is inconsistent hiring policies at multi-location companies. In multi-location companies, there's a constant danger that one site will interpret the same result of a background check differently than another. And that can invite litigation. The solution? A grade system that rates the results, eliminating hiring discrepancies.

The Number Two Mistake takes place in smaller companies. More than half of companies of 100 employees or less don't have policies and procedures describing criteria for new hires.

We all know it: in the high-stress world in which we operate every day, filling the seat seems to often take precedence, rather than filling the seat with the right person. And this is a tendency that we will have to make a conscious effort to change – right now.

A study conducted by the American Management Association reported various losses to U.S. business due to felonies:
Employee pilferage - over $10 billion
Commercial bribery - over $10 billion
Computer fraud - over $1Billion
Embezzlement - over $4 billion
Vandalism - over 2.5 billion
Burglary - over $2.5 billion
Insurance/Workers Compensation fraud - over $2 billion
Shoplifting - over $2 billion
Arson - over $1.3 billion
If you're a call center manager, of course, one of your primary jobs is, indeed, getting people into those seats. But – in light of statistics such as these, as well as that brave new world that we all face since September 11 - shouldn't you make it more of a priority to get the right people into those seats?

After all, your performance gets judged, too…

Allison Gross is a Vice President with Comforce Corporation www.comforce.com, a $400 million public company involved in consulting and staffing for the call center industry. Based in Atlanta, GA, she works closely with major call centers all over the country, among them BellSouth, MBNA, and UPS, as well as numerous clients in the telecom, financial, hospitality, technology, and transportation industries. Allison Gross can be reached at (678) 812-2234, or at agross@comforce.com. <! *************** END OF MAIN *******************************************>


---