Call Center Company
Call Center Solutions
Call Center Monitoring System
Call Center Simulator
IVR / ACD Simulation
Predictive Dialer Simulator
Voice Broadcast Simulator

Information
Agent Training
Call Center Human Resources
Call Centers Outsourcing
Call Center Help Services
Call Center Productivity
Call Center Technology
Telemarketing CRM
Call Center Autodialer
Call Center CTI
Inbound Call Center
Call Center Simulation
Call Center Modeling
Call Center Monitoring
Contact Center Software
Call Center Software
Customer Contact Center Technology
Call Center Solutions
Telemarketing Software
Linux Call Center
Outbound Call Center
Call Center Outsourcing
Call Center Services
Call Center Development
Contact Center
Contact Management Center
Call Center CRM

DSC Tech Library
Call Centers and Technology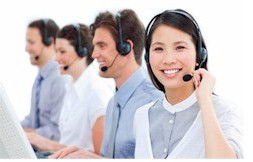 This section of our technical library presents information and documentation relating to Call Center technology and Best Practices plus software and products. Since the Company's inception in 1978, DSC has specialized in the development of communications software and systems. Beginning with our CRM and call center applications, DSC has developed computer telephony integration software and PC based phone systems. These products have been developed to run on a wide variety of telecom computer systems and environments.

The following article presents product or service information relating to call centers and customer service help desks.




---
<! ************** Beginning Of Main ************************>
The Challenge of Ongoing Agent Training in a Multi-Media Contact Center
By Anne Nickerson, Managing Director of Call Center Coach, LLC
---


"Excellence is an art won by training and habituation. We do not act rightly because we have virtue or excellence, but we rather have those because we have acted rightly. We are what we repeatedly do. Excellence, then, is not an act but a habit." -Aristotle

Customers today demand excellence. Excellence demands a strategy of continuous learning. A continuous learning strategy requires stalwart diligence and flexibility to meet the varied needs of contact center employees.

Here is a snapshot of opposing forces to ongoing agent training in a multi-media contact center, and suggestions for how to overcome or creatively work around them in order to use training as a conduit toward performance success.
Opposing Force: Measurable Outcomes and Follow Up
Successful learning includes both a process and an outcome, both of which are measurable and observable. The training process itself is not simply the instructional time, but also includes follow-up practice and feedback components. Many organizations confuse "information to know for overall context" with true training which includes performance behaviors that are assessable and visible. This confusion muddies how to deliver the message, and behaviors on which to focus. In addition, most organizations think of training as "dip and dunk" in a presentation or program, and then expect change to occur, rather than an ongoing process.

Getting clear first about what the agent needs to do or say differently as a result of training is one way to avoid this confusion. For example, customer satisfaction data is an important piece of contextual information that can be shared on e-mail, or on a wall chart, in the contact center. However, if the numbers indicate a low score, for example, in customer confidence, the focus for training becomes the measurable, observable behaviors that build confidence. It is the specific "how and what" that needs to happen to change the outcome to a positive result.

Following this approach, the behaviors that contribute to "customer confidence" include taking ownership of callers' issues, communicating accurate information, doing what you say and saying what you'll do. Each of these can be seen or heard, and thus, can be objectively measured.

There is a common saying attributed to Confucius:
What I hear I forget.
What I see, I remember.
What I do, I understand.
Organizations that understand individuals have different learning styles include in their training programs opportunities for listening, writing, modeling behavior, and practicing feedback, which all play into the different ways we learn. Add to that a consistent coaching and check-in process for questions, clarifying lessons learned, and opportunity for the learner to receive affirmation that they have understood and demonstrated the expected behavior and you'll have a winning formula.
Opposing Force: Time to Train
There are multiple shifts, service levels for e-mail and phone queues, meetings, follow-up research, call backs, vacations, breaks, lunch, not to mention unscheduled issues that arise. How do we carve out one, two, three or more hours for training and still meet all these mandates?

Of utmost importance is to have agreement with management that training must be a non-negotiable part of scheduling. Dr. Peter Honey, most well known for his learning style theory, says, "Learning has a beginning, middle and no end." Thus, just as we plan for the ebb and flow of customer contacts, we also need to understand that learning requires these three "C's": continuity, consistency and clear outcomes. This does not mean, however, that the cost becomes insurmountable, nor does the organization need to necessarily add to head count.

Most individuals have a maximum absorption level, so breaking training down into shorter and more frequent learning components accommodates shift and service level requirements. Asking individuals to adopt or change one behavior at a time is more likely to impact retention and application, than identifying 20 behaviors to change by tomorrow. Careful strategy, planning and trend analysis are required to be ahead of the curve of what is needed.
Opposing Force: Delivery Method and Resources
There are four basic delivery options for training: group instructor led, self-paced e-learning, learning lab practice, and one-on-one learning. Of course, there is always the option of "on-the-job" learning, often used by call centers with challenging schedules or resources. Each approach has pros and cons. When used interchangeably to compliment needs, there is a chance for each to offer a winning solution.

Another constant challenge is to have competent and knowledgeable resources who are training experts without breaking the budget. Most organizations use a combination of internal and external resources to meet their needs.

One way to offer cost effective training is to have a multi-faceted delivery approach. One client site addressed the "not enough time" issue by creating a "lead trainer" option, designating and scheduling one person per pod as the "team trainer." Each lesson created by the training and performance team used a common, documented delivery format. Materials were ready to include in packets and delivered to each of the training leaders. They, in turn, had scheduled time in the next 24 hours to deliver the learning to their team or pod mates. In this way, a center of 250 employees was all "trained" in the new behavior within one day.

Another option is to use self study, or e-learning, to practice the new behavior. Suppose agents need to learn how to maneuver new screens in a system and identify where to enter information in a new place. By creating a self study or on-line version of the process, and then offering a quiz to test performance knowledge along with coaches to follow up as needed, agents can quickly understand, practice and implement expected use of new screens and data entry.

People seldom improve very much when they have only their own knowledge and patterns to follow. Individuals become what they learn, so it's imperative that contact center organizations rise to the challenge of becoming a continuous learning organization, and provide conditions where people learn.
About the Author
Anne Nickerson is Founder and Managing Director of Call Center Coach, LLC TM, a firm focused on operational audits, executive coaching and management development, where her business mantra is to "coach leaders of today, so they thrive tomorrow." She is also the principal founder of Partners in Development, LLC, a human resources consulting firm. The mission of the firm is "to facilitate holistic and aligned human resource processes that support bottom line business results."

Anne can be reached at anne@CallCenterCoach.com or at 1-888-860- COACH (2622). <! *************** END OF MAIN *******************************************>


---