Our Products
Softphone
Message Broadcast
Automated Call Distribution
Telecommuting Software
Voice Recording Software

Information
Predictive Dialers
T1 Predictive Dialers
Predictive Dialer Software
Business Phone System
Predictive Dialing
Call Routing
Autodialer Software
Telemarketing Autodialer
Virtual PBX Phone System
Telephony Phone Software
ACD Systems
Call Recording
Auto Dialers
Business Phone Systems
Condominium Alert Service
Labor Union Calls
Workforce Management
Emergency Phone Dialer
HOA Notification Service
Mobile Home Contact Service


Our Services
Voice Broadcasting
IVR Outsourcing
Hosted IVR
IVR Hosting
Call Center Outsourcing
Answering Services


<! ************** MAIN BODY ************************************************>

DSC Tech Library



WIZARD Predictive and Auto Dialers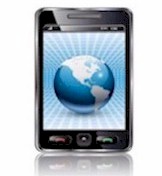 This section of our technical library presents information and documentation relating to Predictive Dialers and Auto Dialer software and products. The PACER and Wizard phone systems are PC based call center phone systems that are recognized as premier inbound and outbound computer telephony systems. Features such as automatic call distribution (ACD), Interactive Voice Response (IVR) and call recording have added a new dimension to the predictive dialer and auto dialer capabilities of these systems. These computer based dialing systems can perform various types of auto dialing campaigns simultaneously. These types include Predictive Dialing, Progressive Dialing, Preview Dialing and Dial on Demand.
WIZARD Auto / Predictive Dialer Quick Guide
This document provides the WIZARD Systems Administrator with a quick, step by step guide for operating the predictive / auto dialer phone system. This guide covers the initialization of the WIZARD predictive dialing system, the set up of a predictive dialing campaign, and the running of this campaign.


Installing The Wizard Phone System
Included with our Wizard Phone System is a quick tutorial presenting an animated guide to installing the new phone system. After unpacking the system, the installation takes just a few minutes.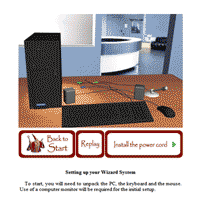 Wizard Installation Guide
9 Steps To Auto / Predictive Dialing
---
Step 1 - Wait For Board Initialization
When the WIZARD predictive dialing phone system is first turned on, WAIT at least 5 MINUTES prior to starting the WIZARD program. This is necessary because of the time required by the Intel/Dialogic board to be initialized. After the appropriate wait, click the 'Soft Phone List Manager' icon appearing on the desktop of the Predictive Dialer Phone system.



Step 2 – Add a Dialing Campaign
From the following screen, add a new dialing campaign by clicking the "Add Campaign" button on this screen. The administrator can add and maintain predictive dialing campaigns, import information into the phone system, and start the dialing operation from this screen. The administrator will be returned to this screen as each phase of the predictive dialing operation is defined and completed.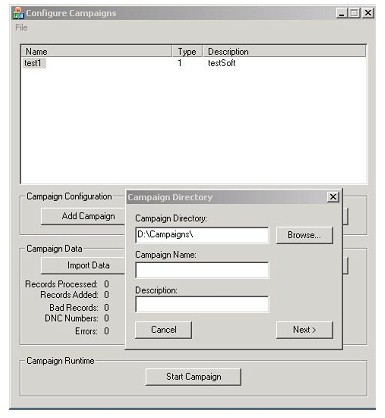 At this point the campaign name and description can be entered. The campaign name must have a DNIS and group already defined to allow the users to receive calls routed from the predictive campaign.

Remember - campaign names must be alphanumeric with no spaces, i.e. Campaign2 or DenverBroadcast.
Step 3 - Define the Type of Dialing Campaign
After filling out the basic predictive campaign information above, the following screen will appear.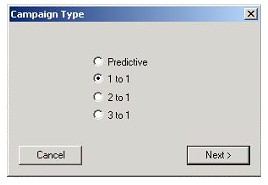 The following is a description of each type of dialing technique:
Predictive Dialing
This technique is selected when the dialing campaign requires our phone system to "predict" when agents will become available and the phone system begins dialing numbers even when no agent is currently available to handle a call. Factors such as number of agents, average talk time, etc. are used when determining how many calls are to be made anticipating when an agent will become available.
The following additional types of dialing are more commonly known as "auto dialing" techniques because our phone system only starts dialing a number(s) when an agent is available to accept the call when it is connected.
1 to 1
Dials one number per agent until the agents are connected.
2 to 1
Dials two numbers per agent when possible until the agents are connected.
3 to 1
Dials three numbers per agent when possible until the agents are connected.
Step 4 - Define the Types of Calls Passed to Agents
In this step the administrator can choose which types of calls are to be transferred to agents. Calls that are not transferred to agents (busy, etc) can be called again at a later time.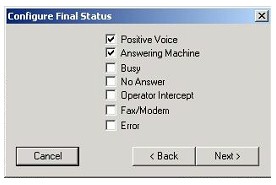 Step 5 - Define Static Input File
The next window allows an administrator the option to set a static predictive dialing phone list. This option should only be selected when there is just ONE phone list file used to perform this calling campaign.

CAUTION: This file will be imported each time this predictive dial campaign is started.





For this example we will leave this box blank and continue on.
Step 6 - Define Callback Settings
This screen allows the administrator to specify which types of calls are to be called again. Up to three attempts can be made to connect a call to an agent. NOTE, the call types that are automatically transferred to agents are greyed on this screen.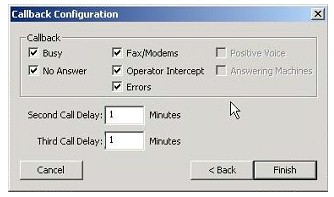 The administrator can also specify the number of minutes to wait prior to re-dialing a number. This is the MINIMUM wait time before dialing the number again.
Step 7 - Import Phone Numbers
After a Predictive Dialer campaign has been defined, the administrator can start dialing. The original Campaign Configuration screen will appear.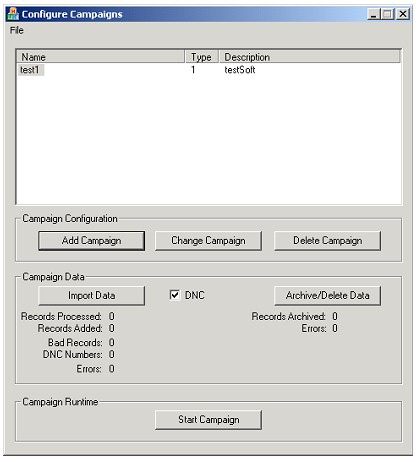 To start a predictive campaign, first import the phone numbers into the phone system database. Enter the appropriate campaign and select 'Import Data'.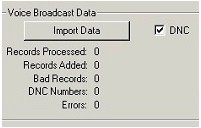 Note the DNC option. This refers to the "Do Not Call" feature that if checked, causes each number to be checked against our internal DNC database as it is being imported. If the number exists in this database, it will NOT be imported into the dialer and thus not called. Browse for a file maintained on the dialer phone system and load this file into the predictive dial campaign by selecting 'Begin Import'.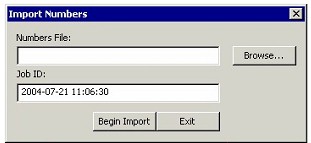 Step 8 - Configure Times
The administrator can configure the time of day (on a per day basis) that a given predictive campaign can be executed. The following screen appears allowing these time of day parameters to be set on a per run basis.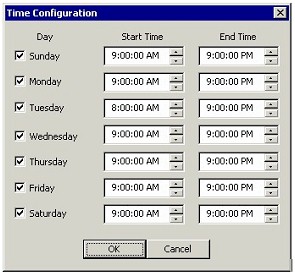 Step 9 - Start Dialing Campaign



The final step is to select 'Start Campaign' and the phone dialer will immediately begin dialing as soon as agents become available and the scheduled time is reached.


---


<! *************** END OF MAIN *******************************************>