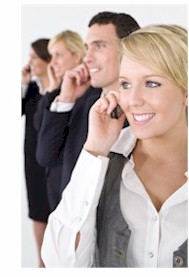 Accepting phone orders for travel accomodations can be performed using our call center phone service and systems. Callers can make reservations and check the status of their travel plans using touch phone responses. Our phone system can check resort, hotel and timeshare availability and provide 24 hour information to the caller as an extended service of your travel organization. Using our 800 number service, callers can access your accomodations from anywhere by phone.

But our phone service can do far more. You can initiate outbound call campaigns announcing a new promotion at a resort or timeshare using a qualified list of potential clients. Pre-recorded messages can be played to call recipients or answering machines. If the prospective customer is interested in your program and needs to talk with a member of your sales team, the message can be programmed to allow a "Press 1...." option and the call will be transferred to one or more designated phone numbers. Calls can also be automatically placed to remind clients of their travel plans and also as an automatic notification if accomodation changes are required. Here are a few examples of how our automated phone system can benefit your travel service organization.


Database Systems Corp. provides interactive voice response IVR services and Voice Broadcasting services to a wide variety of companies and organizations. EasyIVR.com is our primary website for this service division of DSC.
Travel Related Service Applications
Hotel Reservations
Resort Accomodations
Cruise Ship Reservations
Office Location/Hours

Reservation Changes
Booking Dates
Account Balance Info
24 x 7 Answering Service

Scheduled Activities
Dates Available
Train Accomodations
Event Cancellations
<! a HREF="" > Branson Hotline
Outbound call center that calls prospective visitors to the Branson Missouri Resort area with promotions and discounts.


<! a HREF="" > One Stop Travel Shop
One Stop Travel Shop uses our IVR answering service to order travel packages. IVR was used for those responding to TV and radio ads.


<! a HREF="" > Thousand Trails, Inc.
Offers membership camping at over 60 national parks and preserves throughout the United States and Canada.