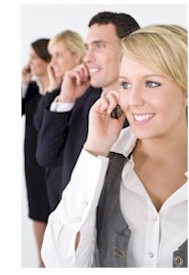 Database Systems Corp. can help you provide better service and satisfy the transportation information requests from your customers. Our 800 number answering services can give your customers 24 hour access to bus schedules, airline arrivals, freight restrictions, and specific tracking of goods shipped by air, sea, and ground. This service can help you cut costs and frees your customer service agents to handle more complex calls and service.

Outbound calling campaigns can be automatically launched to inform clients of shipment dates and changes in travel schedules. Our phone service can leave recorded messages on answering machines or play messages to individuals. Callers and called individuals can be given direct access to your service and information departments by simply pressing a touch phone key. Personalized information from your custom database (such as name, scheduled arrival and departure date and time) can be included in calls. Calls can be routed to a remote company representative or to a group of service agents. Multiple message campaigns can be performed at the same time, each with its own set of business rules. Our call announcement system can conform to your specific requirements.

Database Systems Corp. provides interactive voice response IVR services and Voice Broadcasting services to a wide variety of companies and organizations. EasyIVR.com is our primary website for this service division of DSC.
Transportation Applications
Airport Information
Bus Schedules
Shipping Information
Automobile Rentals

Shipments By Rail
Schedule Change Alert
Arrival Times
24 x 7 Service

Flight Reservations
Freight Restrictions
Bus and Air Freight
Auto Fleet Maintenance
North County Transit Authority
Affiliated with Orange County, NCTA manages a fleet of mass transit vehicles and maintains routing and scheduling information as well as driver payroll and scheduling systems.


Orange County Transit Authority
Manages fleet of mass transit vehicles and maintains fleet route information and driver schedules. Maintains payroll information and updates.


Ohio Association of Railroad Passengers
The Ohio Association of Railroad Passengers exists to encourage and coordinate the efforts of Ohio transportation consumers in developing rail passenger service in Ohio. OARP currently utilizes Voice Broadcasting in order to notify passengers and citizens of upcoming events.


Safety Matters
Safety Matters is an organization dedicated to keeping children safe through the use of bumper stickers. Safety Matters currently utilizes Interactive Voice Response in conjunction with a bumper stickers campaign. Drivers can call an 800 number in order to report unsafe driving by an adolescent. The report generates a call to the parents of the adolescent informing them of any activity.


Subaru of America, Inc.
Subaru of America, Inc. is a wholly owned subsidiary of Fuji Heavy Industries Ltd. of Japan. Based out of Illinois, Subaru of America/Mid America Region currently utilizes voice broadcasting to update both field sales force personnel and automobile dealerships regarding product and promotional information.