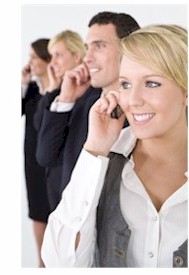 Service bureaus and call centers can realize tremendous benefits from our call center technology. Smart message dialing and predictive dialers give service agencies a competitive edge over traditional call centers. Inbound calls can be routed intelligently to different agent groups based upon the number dialed. Callers can enter account numbers or extensions that identify either the caller or the proper campaign. This is effectively communicated to the call center agent when the call is finally transferred to one of your service representative.

Outbound campaigns can likewise be efficiently processed. All forms of dialing are supported including predictive dialing and our smart message dialing. With our smart dialer, a message can be played to an individual or left on an answering machine. The individual could make selections from a menu or leave a message for the caller. If the called individual needs to talk with one of your agents, the message can be programmed to allow a "Press 1...." option and the call will be transferred to one of your service representatives. Here are a few examples of how our automated phone system can benefit your service bureau.

Database Systems Corp. provides interactive voice response IVR services and Voice Broadcasting services to a wide variety of companies and organizations. EasyIVR.com is our primary website for this service division of DSC.
Service Bureau Applications
Message Processing
Outsourced Call Handling
Predictive Dialing
Answering Machine

Inbound Call Processing
Order Fulfillment
Service Dispatch
24 x 7 Answering Service

Appointment Scheduling
Voice Mail Messaging
Call Center Services
Overflow Call Handling
Database Systems Corp.
Inbound and outbound call center specializing in all forms of Interactive Voice Response applications and Voice Broadcasting services.


<! a HREF="" > Direct Response Marketing
Inbound and outbound call center and service bureau specializing in financial services and insurance applications. DRM selected our customer relationship management CRM software - Telemation to provide service and sales to its clients. DRM also chose our PACER phone system for performing all types of dialing campaigns including predictive dialing.


<! a HREF="" > Inside Oregon Enterprises
Inside Oregon Enterprises reflects the Oregon Department Of Corrections (ODOC) diverse business interests and pride in Oregon. ODOC provides telecommunications and fulfillment services including call center activities. Database Systems Corp. was chosen to provide call center technology including our PACER phone system with predictive dialer, ivr and acd systems, as well as call recording. ODOC also utilizes our award winning CRM software - Telemation.