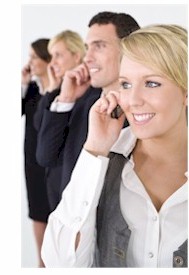 Accepting phone orders for goods and services has been a traditional business function for a number of years. The intelligent routing of calls to the appropriate sales person is a simple task for our call center phone system. But our technology goes far beyond connecting prospective customers to sales representatives. Information can be collected from the caller prior to connecting to your sales agents. In fact, the entire order process can be programmed without the customer talking with a sales person. Product availability, pricing, and order status information can all be given to the customer using simple touch phone responses.

Outbound call campaigns can be launched announcing a new product promotion. Pre-recorded messages can be played to call recipients or answering machines. If the prospective customer needs to talk with a member of your sales team, the message can be programmed to allow a "Press 1...." option and the call will be transferred to one or more designated phone numbers. Calls can also be automatically placed to remind customers of ordered product arrivals. Here are a few examples of how our automated phone system can benefit your help desk and customer service organization.


Retail Sales Phone Applications
Retail Account Status
Product Availability
Catalogue Services
Service Rep Scheduling

Store Locations/Hours
Credit Card Verification
Order Status Calls
24 x 7 Service

New Product Promotions
Employee Scheduling
Job Applications
Voice Mail Systems
<! a HREF="" > Awareness Corporation
Awareness employs our Voice Broadcasting to announce seminars to its members. Voice Broadcasting is also used to inform their "pyramid members" of special products - new or specially priced.


<! a HREF="" > BCBG Max Azria
BCBG provides suiting separates, jeans, knits, coats, dresses, eveningwear, swim, handbags, small leather goods, belts, footwear, eyewear, accessories, and fragrance products. This is an upscale ladies store with 265 locations. BCBG uses our phone answering service and IVR for looking up store locations along with option to request where specialty items can be found.


<! a HREF="" > Capo Lifestyle Eyewear
800 phone answering service for store merchandisers to provide information on sales & merchandising visits to various retail outlets.


<! a HREF="" > Excellence In Execution
EIE is a marketing company that utilizes our IVR services. Company representatives visit CVS pharmacies and report account activity by phone including service date, inventory, returns, planogram specs, etc.


<! a HREF="" > First Step Ltd.
First Step Ltd. is a direct marketing organization located in Butte, MT. First Step utilizes the Pacer phone system along with Telemation CRM software to perform predictive and forced preview dialing. This call center focuses on the direct marketing of a robust product line of household wares.


<! a HREF="" > In-Store Opportunities
Provides 2 week frozen food merchandize in stores. Inbound phone application acts as a backup allowing sales representatives to update reports.


<! a HREF="" > New Direction Workshops Inc
Located in Yuma, AZ, New Directions Workshops Inc is a direct marketing company that focuses on selling assorted household goods. The Pacer phone system along with Telemation CRM software is used to perform predictive and forced preview dialing for an 8-person call center.


<! a HREF="" > Premeire Pigments
Premier Pigments enjoys a preeminent reputation in the development and quality of the world's finest permanent cosmetic pigments. Premier Pigments currently utilizes Voice Broadcasting to update their clientele regarding new product releases and upcoming events.


<! a HREF="" > Roger's Jewelers
Part of the Ellenstein family of stores, Roger's Jewelers has been synonymous with fine jewelry, great service and outstanding value for over 25 years. Roger's Jewelers currently utilizes Voice Broadcasting for customer payment reminder notices.


<! a HREF="" > Spectrum Technologies
Spectrum Technologies manufactures and distributes affordable, leading-edge measurement information technology to the agricultural market throughout the world. Founded in 1987, Spectrum is headquartered in Plainfield, IL. Spectrum Technologies utilizes our voice broadcasting service to notify customers regarding product shipping information and schedules.


<! a HREF="" > The Living Scriptures Inc.
Outbound dialer and contact management system that performs multiple campaigns calling prospective customers for sales of Christian videos and CDs.


<! a HREF="" > S. Walter Packaging Corp.
800 number answering service that prompts customers with a touch phone script and collects customer packaging orders.


<! a HREF="" > TNT Fireworks
TNT Fireworks has 1200 locations selling fireworks over a 20 day period in June and July months of each year. Sales personnel are required to call our 800 number service and input information relating directly to sales each day.


<! a HREF="" > Verizon Wireless Store Locator
Verizon Wireless utilizes our store locator service to help its customers find the nearest Verizon store. Prospective clients call an 800 number published by Verizon and the calls are answered using our interactive voice response IVR system and call center phone system. Callers are prompted to enter a zip code and our dealer locator software identifies the nearest Verizon store and transfers the caller to a Verizon company representative. Alternatively, the caller can leave a voice message on our phone system which is automatically transmitted in real time to the nearest Verizon center.