Call Center Company
Call Center Solutions
Call Center Monitoring System
Call Center Simulator
IVR / ACD Simulation
Predictive Dialer Simulator
Voice Broadcast Simulator

Information
Call Center Simulation
Call Center Modeling
Call Center Monitoring
Contact Center Software
Call Center Software
Customer Contact Center Technology
Call Center Solutions
Telemarketing Software
Linux Call Center
Call Center Technology
Telemarketing CRM
Call Center Autodialer
Call Center CTI
Inbound Call Center
Outbound Call Center
Call Center Outsourcing
Call Center Services
Call Center Development
Contact Center
Contact Management Center
Call Center CRM

DSC Tech Library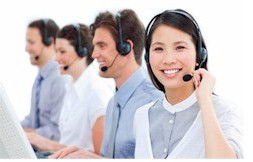 This section of our technical library presents information and documentation relating to Call Center technology and Best Practices plus software and products. DSC is a leading provider of contact center technology and software solutions as well as predictive dialer phone systems for the modern call center. Customer contact center software includes CRM software and computer telephony integration solutions. These modern products help call center phone agents communicate effectively with your customers and prospects.

The following article presents product or service information relating to call centers and customer service help desks.




---
<! ************** Beginning Of Main ************************>
Using Simulation In Call Centers
Page 4
Vivek Bapat Eddie B. Pruitte, Jr., Systems Modeling Corporation

Eddie B. Pruitte, Jr., Navy Federal Credit Union
---
4 CASE STUDY
In recent years, Navy Federal Credit Union has become the world's largest credit union, offering an extensive array of exceptional products geared to meet the specific needs of its members. The credit union currently has more than 1.6 million members and over $10 billion in assets. For more than 60 years, Navy Federal has been tailoring a customized assortment of services to the lifestyles of the men and women of the U.S. Navy and Marine Corps and members of their families.

Navy Federal Credit Unionís worldwide network of over 80 member service centers includes 25 overseas locations. Their services are supplemented by more than 320,000 ATMs around the world, telephone access (tollfree telephone numbers, including Touch-Tone Teller, an automated telephone transaction system), and the mail. This means that Navy Federal is with their members wherever they goó24 hours a day.

The initial impetus for acquiring simulation technology was in response to a request by management for additional toll-free lines of a certain call center. As a result of significant blockage at the call center being analyzed, management recommended the addition of several lines in an effort to reduce call blockage statistics.

With simulation, analysts were able to prove that the addition of telephone lines without additional agent resources would merely increase queue time and toll charges. Conservative estimates indicated that the weekly increased toll charges resulting from the change would pay for the technology in a matter of a few weeks. Eddie Pruitte, call-center analyst at Navy Federal Credit Union was the primary user and driving force behind employing simulation as an analysis tool at Navy Federal.

Eddie recalls, "Recently a project manager was assigned the task of improving the call-handling process of one of our automated systems. Although the call blockage was not enormous, it was steadily increasing. The managerís first response was to purchase additional IVR equipment. With simulation, the existing application was modeled with its current configuration and number of ports.

The results of the simulation revealed that not only were there enough ports to handle additional call volume, but the current volumes did not justify any blockage at all; evidently calls were being blocked for another reason. The project manager has reduced his request for additional IVR ports from 96 to 24. This equates to only one additional box instead of two (assuming 48 port units). With the cost of a unit ranging from $72k to $85k, if the recommendations for a reduced purchase are implemented, the cost savings will be quite evident.

Another of the credit unionís call centers outsources calls after hours. The manager requested a study to determine how many agents would be needed to provide service comparable to normal business hours if the centerís hours were extended.

With simulation, we were not only able to give hourly staffing requirements, but also able to provide handle times of calls by type. We were also able to provide the manager with confidence intervals as they pertained to staffing levels.

We are currently under contract to purchase and implement skills based routing from a major vendor. Our managers were informed more calls would be handled because the number of transfers would be reduced, and more experienced agents would receive preference in the way of calls being forwarded to them because they were more efficient.

One of our call centers uses complicated call-routing schemes in their operations to give priority to loan/revenue producing calls. After building a model to replicate skills-based routing (as proposed by our managers), we discovered we would answer more calls overall. Unfortunately, we would answer fewer revenuegenerating calls.

The WFM vendor did not have the requisite tools to simulate our environment to test a configuration prior to production. Normally, they installed skills-based routing by trial and error methodology. Because of simulation, we will not be susceptible to the possibility of losing loan potential as a result of an incorrect guess."
CONCLUSIONS
With simulation, companies are now able to study offline and without any disruption in service the impact of change in their call centers. The risks associated with making poor decisions and losing customers is minimized. Proactive planning can now replace reactive decision-making. Managers are better able to respond to the sudden fluctuations and unpredictability that exists in caller behavior. With simulation, the call center is finally emerging as a manageable, responsive, and customizable strategic weapon!
REFERENCES
Bapat V., V. Mehrotra, and D. Profozich. November
1997. Simulation: The best way to design your call
center. In Telemarketing and Call Center Solutions

Bodin M. and K. Dawson. 1996 Call Center Handbook.
New York: Flatiron Publishing, Inc.

Pegden D., R. Shannon, and R. Sadowski. 1995. Introduction
to SIMAN using Simulation. New York:
McGraw-Hill

Profozich, D. 1998. Managing Change. Upper Saddle
River, New Jersey: Prentice Hall.



Page [1] [2] [3] 4

<! ***************** End Of Page ****************>


---


<! *************** END OF MAIN *******************************************>