ACD Systems
Predictive Dialer
Auto Attendant / Call Routing

Automatic Call Distribution
ACD Software
Phone Software
ACD Phone Software
ACD System Software
Call Distribution
ACD Programming
Auto Attendant
Automated Call Distributor
Call Routing
Call Distributor
ACD Phone System
ACD Applications
ACD Systems


<! ************** MAIN BODY ************************************************>

Phone Activity Monitor (PAM)
PAM Agent Monitoring
Logging in to PAM - Agent Monitoring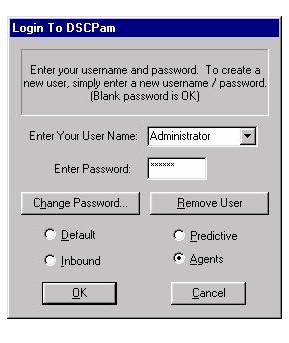 Enter a user name and optional password in the text boxes provided.
This will activate the OK button.


There are 3 Phone activity monitors that can be viewed, Predictive, Inbound and Agents. The first time Pam in invoked the "Default" option will be selected. this initial setting indicates that Inbound call activity will be monitored. After a successful login to a monitoring session this default will be changed to the current session type for the next time the user logs in.


Click the now active OK button to continue with the login process.


The final information that is now needed by Pam to start monitoring Agent phone activity is the information defining the systems that are running the DSC Phone software.





Server Name - This identifies the server that is running the DSC PDialerPlus.exe software, the value can be an IP address or the name of the server defined your windows 95/98/NT hosts file.

ACD Monitor - This field is used to define the ID of the DialerInterface program defined to the Telemation campaign Site record.

Click Ok to establish the connection with the server and ACD and start the Agent Monitoring Session.

Selecting Cancel will abort exiting PAM.

During the connection process you will be presented with a warning dialog that indicates the you are waiting for the connection to be established. if no connection is established pressing Cancel will exit PAM. Pressing the Run Anyway button will invoke PAM but it will not be receiving any signals from the Pacer system.
Agent Monitor Screen
This is the initial Agent monitor screen that is presented to the user, after a few moments, and if there are agents logged into the dialer, a display of the active agents is presented as in the example below.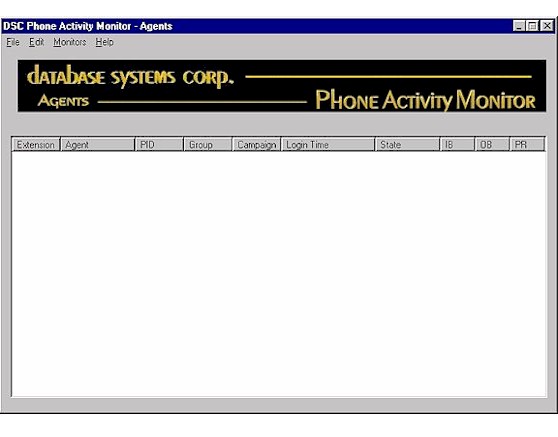 The Fields Displayed Are:

Extension - The extension number of the station in use.
Agent - The agent's Telemation login ID.
PID - Process ID of the users running program on the NT or Linux system.
Group - This is the phone group that the agent specified during the login process.
Campaign - The name of the Telemation campaign the user is currently running
Login TIme - The time the user entered into the Pacer system.
State - Current agent activity state, Available, Unavailable, On Call, Wrapup and Pause.
IB - Number of inbound calls taken.
OB - Number of Outbound calls placed.
PR - Number of Predictive calls passed to agent.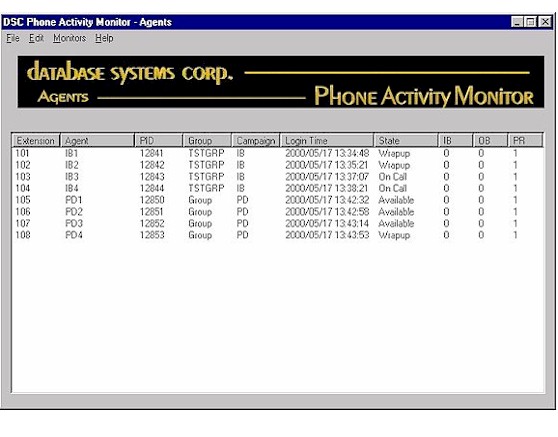 ---


<! *************** END OF MAIN *******************************************>