Call Center Company
Call Center Solutions
Call Center Monitoring System
Call Center Simulator
IVR / ACD Simulation
Predictive Dialer Simulator
Voice Broadcast Simulator

Information
Call Centers
VOIP In Call Centers
Call Center Productivity
Call Center Technology
Telemarketing CRM
Call Center Autodialer
Call Center CTI
Inbound Call Center
Call Center Simulation
Call Center Modeling
Call Center Monitoring
Contact Center Software
Call Center Software
Customer Contact Center Technology
Call Center Solutions
Telemarketing Software
Linux Call Center
Outbound Call Center
Call Center Outsourcing
Call Center Services
Call Center Development
Contact Center
Contact Management Center
Call Center CRM

DSC Tech Library
Customer Call Centers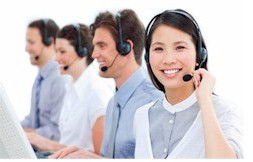 This section of our technical library presents information and documentation relating to Call Center technology and Best Practices plus software and products. Since the Company's inception in 1978, DSC has specialized in the development of communications software and systems. Beginning with our CRM and call center applications, DSC has developed computer telephony integration software and PC based phone systems. These products have been developed to run on a wide variety of telecom computer systems and environments.

The following article presents product or service information relating to call centers and customer service help desks.




---
<! ************** Beginning Of Main ************************>
Call centers bracing for the tech-challenged
As gift digital cameras and laptops get unwrapped, the pleas for help will flow.

By Clint Swett -- Bee Staff Writer, www.sacbee.com
---


If all went according to expectations, at 6 o'clock this morning the phone lines at Nintendo of America in Redmond, Wash., began heating up.

As children across the nation began ripping into their presents, about 200 gaming geeks - many of them high school and college students on vacation - were poised to answer questions about how to hook up a GameCube or which buttons will make Mario leap for the golden coins.

Not many electronics companies expect the Christmas morning onslaught that Nintendo faces. But all are gearing up to deal with the befuddlement and frustration their customers face as they try to get their new digital cameras, wireless laptops and color printers to work as advertised.

"We typically see a 30 to 40 percent increase in (tech support) calls from midyear," said Jim Kemp, head of customer support of Hewlett-Packard's North America operations.

Unlike Nintendo, which expects an immediate deluge, Kemp said calling will ramp up the week after Christmas as people begin trying to set up their PCs or download photos they have taken with their new digital cameras.

In a perfect world, all electronic devices would be simple, intuitive and work perfectly. But in the complex world of consumer electronics that is often not the case.

And with devices getting much more capable, they become more attractive to people who lack a high level of tech savvy.

"Now even people like my mom are doing digital photography and printing ... and networking wirelessly," said Jennifer Davis, a spokeswoman for computer giant Dell Inc. "Novice users are doing things today that experts were doing a few years back."

Most consumers expect free help for their newest gadgets. Whether they get it depends on what the problem is and which company made the device.

HP, for instance, offers free tech support on most of its products for a year. That can come in the form of telephone support, online chat or e-mail exchanges. Kemp said the company also has a revamped Web site that makes it easier to find solutions for common problems.

Nintendo, too, offers free tech support for hardware and usability issues, but charges $1.50 a minute for conversations with "game counselors," who provide advice on how to get past particularly challenging parts of a game, company spokeswoman Anka Dolecki said.

Dell Inc. has free support for malfunctioning hardware, but not for compatibility issues, Davis said.

"If your motherboard fails or your keyboard (malfunctions) we can help you," she said. "But if you are having a hard time getting your new Dell to work with a three-year-old printer, that's not covered."

For those issues, Dell charges $39 an hour. And that's after you actually get through to a tech-support person. During the holidays, Davis said, customers can expect wait times to be about double what they might experience at other times of the year. She declined to say what the average hold time is.

Because tech support is so expensive - costing companies from $8 to $30 a call, according to the Gartner Group - firms such as Dell and HP encourage customers to use company Web pages to solve the bulk of their problems.

"Over the summer we revamped our tech-support site," Davis said. "You can type in your question and get access to 9,000 articles. We want people to try that first."

HP has a Web site devoted to setting up wireless networks.

Eric Rocco, an analyst with Gartner, said Web-based help is generally very effective. "But novice customers still like the hand-holding they get from talking to somebody live," he said.

That creates a delicate balancing act for manufacturers. Without enough tech support they risk alienating customers. But spending too much on support erodes the already thin profit margins on many of their devices, said Silicon Valley analyst Rob Enderle. "One competitive advantage is how well companies do on establishing (less expensive) online tech support," he said.

To save money, many companies have set up call centers offshore, particularly in India. But that can create problems as customers struggle to understand the sometimes heavily accented English over an occasionally shaky phone connection.

Kemp said HP works hard to overcome those problems, including training workers to use dialogue that's easy for American ears to understand.

Offering support by e-mail and online chat eliminates many of those problems, too.

For those who don't get the help they need from manufacturers, there are other options.

One is an online pay service called PlumChoice. Based in the Boston area, PlumChoice techs can take control of a customer's computer via a broadband connection. For security reasons, the technology requires the customer to click a button agreeing to the session, and the tech's access to the computer expires once the session is complete.

PlumChoice President Ted Werth said he expects to see a lot of activity in such areas as helping people with new iPods, configuring printers and scanners and setting up wireless networks.

The company, found at www.plumchoice.com, charges $23 for 15 minutes, or $80 per hour.

Home tech visits are also an option. My Home Tech is one of many businesses in the Sacramento area that make house calls. Company owner Dan Bobella said his busiest time begins in late January when people discover they aren't getting gear to work correctly.

He said house calls run about $80 an hour, but even after the initial problem is fixed, customers ask him to stay to help with other issues.

Before calling for help, consumers should remember to read the instructions carefully, experts say.

For instance, one common complaint heard by HP techs is that new inkjet printers aren't working right. But, said Kemp, the solution is often simple. The users neglected to read instructions that told them to peel tape off the bottom of ink cartridges before installing them.
About the Writer
The Bee's Clint Swett can be reached at (916) 321-1976 or cswett@sacbee.com. -------------------------------------------------------------------------------- <! *************** END OF MAIN *******************************************>