Call Center Company
Call Center Solutions
Call Center Monitoring System
Call Center Simulator
IVR / ACD Simulation
Predictive Dialer Simulator
Voice Broadcast Simulator

Information
Call Centers
VOIP In Call Centers
Call Center Productivity
Call Center Technology
Telemarketing CRM
Call Center Autodialer
Call Center CTI
Inbound Call Center
Call Center Simulation
Call Center Modeling
Call Center Monitoring
Contact Center Software
Call Center Software
Customer Contact Center Technology
Call Center Solutions
Telemarketing Software
Linux Call Center
Outbound Call Center
Call Center Outsourcing
Call Center Services
Call Center Development
Contact Center
Contact Management Center
Call Center CRM

DSC Tech Library
Customer Call Centers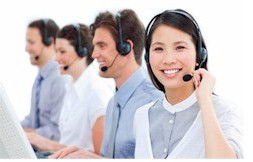 This section of our technical library presents information and documentation relating to Call Center technology and Best Practices plus software and products. Since the Company's inception in 1978, DSC has specialized in the development of communications software and systems. Beginning with our CRM and call center applications, DSC has developed computer telephony integration software and PC based phone systems. These products have been developed to run on a wide variety of telecom computer systems and environments.

The following article presents product or service information relating to call centers and customer service help desks.




---
<! ************** Beginning Of Main ************************>
VoIP Case Study: Call Centers Put on Speed Dial
Mental health provider load-balances its distributed staff.

Case Study by Joanie Wexler
---


JANUARY 17, 2005 (COMPUTERWORLD) - When a patient in crisis calls Magellan Health Services Inc., it's imperative that a properly trained clinician answers the phone promptly.

The Farmington, Conn.-based behavioral health care company serving mental health and substance abuse patients focused on this requirement when redesigning its call center network 18 months ago. The call volume is huge: Twenty-two call centers across the country collectively handle an average of 30,000 calls per day.

"A live voice must answer every call within 30 seconds," explains Robert Odenheimer, senior vice president of IT operations and telecommunications. "We don't have the option of putting callers contemplating suicide on hold for three or four minutes."

Given this situation, being able to reroute and balance calls across a geographically distributed staff is the principal payback of Magellan's VoIP deployment. "Every site has vacancies we can't fill," Odenheimer says. "Finding qualified, clinically trained staff is our biggest challenge."

By moving from a dial network to a routed VoIP network, Magellan has been able to optimize use of its remote personnel without incurring toll charges. "We learned there are three or four hours every day [across time zones] where a third to half of the staff are not busy," Odenheimer explains. "We knew if we could balance the call load, we could offer better service with fewer people."

Rerouting also reduces the number of T1 access links required at each site and eliminates the need to pay for a long-distance carrier to forward calls to after-hours sites. An incoming call can now be rerouted over the company's frame-relay or Asynchronous Transfer Mode service, reducing the peak number of concurrent calls for which any one site must be optimized. So Magellan doesn't have to overinvest in last-mile T1 bandwidth, Odenheimer explains.

In addition, in one office, the company is saving $5,000 per month by rerouting what would have been intrastate 800-number calls so that they terminate as interstate calls. "Interstate rates are cheaper. We will soon start to experience these savings in our other sites," says Odenheimer, adding that he expects savings to total $500,000 per year.
Configuration Rationale
Magellan currently runs Avaya Definity digital PBXs at five of six sites, each with a VoIP gateway card. Local, in-building calls are still served by digital, circuit-switched handsets; VoIP is used for inter-PBX calling only. Users in VoIP-enabled sites, however, do have softphones from Avaya on their laptops, so they can make VoIP calls.

"Every laptop also has VPN capabilities," says Odenheimer. Users can use the telephony and virtual private network software to dial in remotely and make calls off the corporate network.

Unlike other companies implementing VoIP, Magellan couldn't cost-justify wired IP phones for user moves, in part because groups of personnel tend to relocate together and usually do so once a year, Odenheimer says.

He says the real VoIP return on investment will arrive with wireless LANs, which will eliminate much of the wiring in buildings.

Odenheimer says Magellan is close to deploying wireless and will do so when the cost of access points comes down a bit more. He says he feels fairly confident that he can keep a Wi-Fi network secure.

The company is planning to migrate to Avaya's Linux-based S8700 Media Server for high-volume call center environments. At that point, says Odenheimer, all calls will be routed through S8700s in the company's call centers in St. Louis and Columbia, Md.

"Centralizing call center and PBX equipment is one of the primary management efficiencies of IP," says Don Van Doren, president of Vanguard Communications Corp., a call center and IP telephony consultancy in Morris Plains, N.J.

"All the adjunct telephony equipment in a [circuit-switched] environment must be distributed out to each location. With IP, it can be centrally located and managed, and calls can be routed wherever needed," Van Doren says. "This simplifies extending telephony to other centers."

Odenheimer says that Magellan, which uses Cisco Systems WAN access routers for forwarding VoIP traffic among PBXs, also looked closely at Cisco's CallManager IP PBXs. But the company wasn't confident about the reliability of CallManager's Microsoft Windows platform for supporting telephony.

"In our business, we cannot drop a call," he reiterates.
Defending Reliability
Craig Cotton, manager of product marketing at Cisco's voice technology group, counters that the CallManager platforms use customized versions of Microsoft Windows 2000 Server and Windows 2000 Advanced Server, which deliver highly controlled environments and keep availability high.

"We also dedicate the server to CallManager," he says. "It's usually when you add third-party applications that software conflicts result and there are reliability problems."

Also, CallManager 3.0, launched in 2000, gained automatic fail-over among as many as four servers to ensure system uptime.

Because the calls to Magellan's call centers are about extremely sensitive topics, the organization uses network encryption. And because voice can't tolerate much delay, VoIP packets require packet prioritization to meet quality-of-service requirements.

But using encryption when you're trying to meet QoS requirements can be problematic because, by definition, encrypting a packet conceals priority markings. "Such QoS/encryption problems have held up our deployment," says Odenheimer.

Certain Cisco WAN access routers, however, do enable combinations of QoS and IPsec encryption by copying QoS markings into the new, outside IPsec header using a software feature called Cisco Voice and Video Enabled IPsec VPN, or V3PN.

Still, Odenheimer says that part of Magellan's deployment has "been largely a manual exercise, whereby we turn on QoS with link encryption off, see what's going on, then encrypt the link. We make changes, test, make changes and test."

Wexler is a freelance writer in California's Silicon Valley. Contact her at joanie@jwexler.com. <! *************** END OF MAIN *******************************************>