Call Center Company
Call Center Solutions
Call Center Monitoring System
Call Center Simulator
IVR / ACD Simulation
Predictive Dialer Simulator
Voice Broadcast Simulator

Information
Call Centers
Camera Phones In Call Centers
Call Center Productivity
Call Center Technology
Telemarketing CRM
Call Center Autodialer
Call Center CTI
Inbound Call Center
Call Center Simulation
Call Center Modeling
Call Center Monitoring
Contact Center Software
Call Center Software
Customer Contact Center Technology
Call Center Solutions
Telemarketing Software
Linux Call Center
Outbound Call Center
Call Center Outsourcing
Call Center Services
Call Center Development
Contact Center
Contact Management Center
Call Center CRM

DSC Tech Library
Customer Call Centers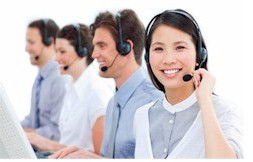 This section of our technical library presents information and documentation relating to Call Center technology and Best Practices plus software and products. Since the Company's inception in 1978, DSC has specialized in the development of communications software and systems. Beginning with our CRM and call center applications, DSC has developed computer telephony integration software and PC based phone systems. These products have been developed to run on a wide variety of telecom computer systems and environments.

The following article presents product or service information relating to call centers and customer service help desks.




---
<! ************** Beginning Of Main ************************>
Giving Eyesight to Call Centers
by Andrew Fano, Ph.D. and Anatole Gershman, Ph.D.
---


Camera phones are the latest ubiquitous gadgets rapidly growing in popularity. In Japan and Korea, for example, they represent over 80 percent of all new cell phone sales. IDC, the global market intelligence and advisory firm in the information technology and telecommunications industries, estimates there will be 300 million camera phones sold worldwide in 2007. A recent study from Scarborough Research, a leader in local, regional and national consumer information, shows a 29 percent growth rate for cell phone ownership over the past two years with almost two-thirds (62 percent) of American adults owning a cell phone.
How will we use these devices?
Today camera phones are marketed as social devices that allow users to capture impromptu moments and send snapshots or short videos of friends and loved ones to each other. However we believe that these are not isolated gadgets, but an important infrastructural development with significant consequences for many business processes such as customer service, sales force automation, and field maintenance, among others. Standard phones also started as social devices but have evolved into a primary channel that allows businesses and customers to say things to each other. Camera phones, by contrast, represent the potential of businesses and customers to show things to each other.

The problem, of course, is that businesses today are not terribly well prepared to show or be shown things. Incorporating the traditional phone into business required more than buying a phone. It required the advent of call centers to handle the scale of calls, and the redesign of business processes around the contacts that took place. Similarly, the rise of media enhanced interactions will require more than accepting emails with 'jpg' attachments. It means redesigning business processes in a way that doesn't simply accept media, but also takes advantage of media.

Accenture Technology Labs has developed the Multimedia Response Center, a media-enhanced 911 call-center prototype that demonstrates how call centers can evolve to inform the interactions they have with camera phone users. Just as security was a primary motivator for people to adopt cell phones, we believe security will be a natural early application for camera phone capabilities, allowing witnesses to send pictures of criminal incidents, accidents, vandalism, or even mundane things like potholes and other deteriorating conditions to city officials. Consider, for example, that by 2007 there will be approximately 8,800 camera phones per square mile in New York City. People have already captured pictures of crimes or other problems with their camera phones and have wanted to send them to authorities. Today it is a small and manageable handful. The looming challenge is dealing with the scale of media in the coming years. If each camera phone sends just one picture per year to the city, the city will have to contend with nearly 3 million pictures, not to mention video. Our prototype illustrates how the enhanced visibility offered to the call center agent significantly transforms the role of the call center agent. Three key changes include:
The Call Center Agent as "Media Producer"
The call center agent is likely to have media available beyond the image or video a user submits. An important role will be producing, that is, selecting the media to be used by the officers that follow-up from the much larger set of available media.
The Call Center Agent as "Interpreter"
With greater access to media, the call center agent will need to do some amount of media interpretation that is, determining the relevance of media and associating it with a case.
The Call Center Agent as "Collaborator"
The media received need not be a snapshot in time. We illustrate how media updates, such as subsequent images or video feeds, can enable a call center agent to collaborate with users over the course of an event rather than merely scheduling and dispatching a worker who will followup.

The 911 call center is but one example application. Until now a key limitation in customer service interactions has been that customers tend to be naive users with little expertise. Pictures are often more articulate than people. Camera phones represent the ability to get past the user promising entirely new classes of customer service. Consider the recent hurricanes in Florida. Insured customers could capture pictures of their damaged homes and transmit them directly to their insurance companies, enabling insurance companies to identify quickly those with the greatest need, rather than waiting upon visits by agents. More generally, camera phones enable the deployment of services that make it possible to point and identify objects, capture context, deliver interactive technical support, gain customer insight, and verify and document physical conditions. These capabilities, which will essentially be part of the public infrastructure, promise a broad variety of customer services not possible today.
About the Authors
Andrew Fano and Anatole Gershman are, respectively, senior researcher, and director of research with Accenture Technology Labs in Chicago. www.accenture.com <! *************** END OF MAIN *******************************************>