Database Systems Corp.
Customers
Partial Customer List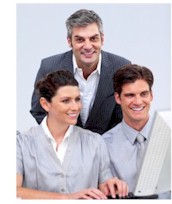 Throughout our history, Database systems Corp. has had the privilege to provide its products to a wide variety of customers, both in the private and public sector. During this extensive period, DSC has licensed technology throughout the world; from Kuwait, Saudi Arabia, England, Singapore, Australia and New Zealand, to virtually every state of the union.

DSC provides call center services and products within virtually all major industry categories. From communities and schools to small business operations, DSC products help improve the productivity of individuals and organizations. Our products include voice broadcasting systems and services as well as call answering solutions. These products are primarily marketed within the United States and Canada.

Contact DSC to learn more about our call center services and phone systems including our IVR and voice broadcast outsourcing service.

Here is just a partial list of some of the clients we have served since 1978.


---
AARP
Advanta Financial Corp.
Advanta Mortgage Corp. USA
Alert Communications
American Express Travel Rel. Services
American Red Cross
Amherst
Arthur Andersen And Company
AT&T Communications
Bank of America
BASF
Bell Atlantic Mobile
Blue Cross & Blue Shield
Catholic Diocese
Chadwicks of Boston
Citicorp
Citicorp Investment Bank
Colgate Palmolive
Danish Ministry of Defense
Diesel
Direct Response Marketing
Fletcher Steel
Ford Motor Company Limited
General Electric Company
General Foods USA
General Telephone Co. of California
Great Expectations
Honolulu Board of Realtors
Iowa Light & Power
J. Crew Outfitters
J.M.Stewart Corp.
Johns Hopkins University
KB Homes
Kuwait Oil Company
Land O'Lakes, Inc.
LECG, LLC
Lockheed Shipbuilding & Construction
Lord Abbett
Maryland National Bank
Massachusetts Higher Education
MCI (Los Angeles)
MCI Telecommunications (VA)
Medtronics
Megadyne
Merrill Lynch
Met Life Investors
Microsoft Corporation
Ministry of Foreign Affairs
Moore Data Management Services
Mosby Year Book, Inc.
N.J. Dept. of Human Services

N.J. Dept. of Treasury
National Computer Systems
Neiman-Marcus
New York State
Orange County Transportation Auth.
Orion Pictures Corp.
Pacific Lumber and Shipping
Paging Network
Pizza Hut
Proctor & Gamble Inc.
Quasar Company
Rand McNally & Co
Rutgers University
San Jose Hospital
Sandoz Pharmaceuticals Division
Sara Lee
Savannah Electric & Power
Sears Motor Group Ltd.
Shepherd Of The Hills Entertainment Gp.
Sohio
Southern Pacific
Subaru of America, Inc.
Syracuse University
Telecom Australia
Telemarketing Corp. of America
Tennessee Valley Authority
Texas State
The Living Scriptures
Thrifty Rent-A-Car Systems, Inc.
TNT Fireworks
Transamerica Fund Management
TRW
U. S. Geological Survey
U. S. Postal Service
U. S. West
United States Dept. of Agriculture
University of Arizona
University of Buffalo
University of California
University of Colorado
University of Iowa
University of Rhode Island
University of Sydney
Valley National Bank
Value Line
Verizon Wireless
Walgreen Company
Washington State/Labor & Industries
Weiss, Peck &Greer, LLC
Westinghouse Electric Corp.
Xerox Medical Systems

---